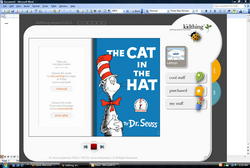 We are very honored to again join Dr. Seuss and NEA to help teachers and kids across America get free access to these wonderful and timeless books
Los Angeles, CA (Vocus) February 27, 2009
At a time when school budgets are shrinking, kidthing® and Dr. Seuss Enterprises, L.P., have teamed up with the National Education Association (NEA) to foster good reading habits in kids while providing teachers nationwide with four free e-books to celebrate NEA's Read Across America.
As NEA's exclusive digital download partner, kidthing, the first and only free digital media player created just for kids, is offering teachers everywhere free digital downloads of classic Dr. Seuss books. The Cat in the Hat, one of the most celebrated children's books, along with Horton Hears a Who!, Hop on Pop and Green Eggs and Ham! are currently available for free at http://www.kidthing.com/nea for NEA's Read Across America Day. These titles are available now through the end of March.
"We are very honored to again join Dr. Seuss and NEA to help teachers and kids across America get free access to these wonderful and timeless books," said Larry Hitchcock, kidthing's CEO. "As digital read-along e-books, the entire classroom can join in NEA's Read Across America, and today's digitally savvy kids really enjoy the added animation and read-along features. Last year we gave teachers and classrooms more than $160,000 in free Dr. Seuss e-books for their classrooms, and in these economic times, we hope to greatly surpass this number."
kidthing's new digital book technology brings these Dr. Seuss classics to life with animations, interactivity and voice. The e-books can be watched by the whole class as the story is read to them, or kids can read each page one at a time at their own pace. In addition to these four classic Dr. Seuss titles, kidthing has created six more Dr. Seuss titles, as well as Dr. Seuss interactive games like Dr. Seuss Concentration and Dr. Seuss Coloring Collection.
"As more families are cutting their budgets in these tough economic times, kidthing is providing a real stimulus package so everyone can celebrate NEA's Read Across America with free downloadable Dr. Seuss books," said NEA President Dennis Van Roekel. "Good reading skills are a long-term investment in a student's success, and we want kids to keep turning the page again and again."
kidthing offers a growing number of entertaining games, books, and videos for children 3-11 years of age. Users can download content for kidthing online and use it on the media player, which lives on the computer so parents can control all the content; there are no ads, and an Internet connection is not needed to use the player. The kidthing media player is free, and users can purchase products through the player, much like iTunes.
About kidthing
kidthing is the first and only free digital media player made just for kids. Created by parents, kidthing provides a safe haven for kids to play and learn away from Web browsers and ads. kidthing's store is filled with a wide variety of fun and engaging products--digital animated books, interactive games, activities and videos from some of the world's leading brands. Parents can preview and buy affordable products with prices starting at under a dollar. (kidthing also provides some free content.) Once purchased, content is automatically downloaded to the kidthing player and can be viewed anytime and anywhere--without needing to be connected to the Internet. kidthing is based in Los Angeles. Visit kidthing at http://www.kidthing.com.
About NEA's Read Across America
NEA's Read Across America is an award winning literacy campaign designed to motivate children to read by making it fun. Read Across America Day, the campaign's signature event, is celebrated on or around March 2, the birthday of Dr. Seuss, the beloved children's book author. Sponsored by the 3.2 million-member National Education Association, Dr. Seuss Enterprises, L.P. and more than 50 national partner organizations, NEA's Read Across America has grown into the nation's largest reading celebration with more than 45 million people participating annually. For more information, visit http://www.nea.org/readacross.
About Dr. Seuss Enterprises,
Dr. Seuss Enterprises was founded in 1993 by Dr. Seuss's widow, Audrey Geisel, in order to maintain the integrity of the original Dr. Seuss books, characters, and their invaluable contribution to children's literacy. The company actively works to ensure that the books and characters maintain their original look and personalities for future generations. Dr. Seuss Enterprises is located in La Jolla, California.
kidthing contact:
Karin Olsen
AMAZONpr
310-497-0052
karin @ amazonpr.com
###