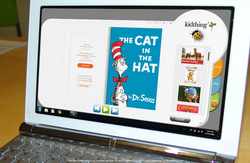 Los Angeles, CA (PRWEB) October 27, 2009
kidthing (http://www.kidthing.com) unveiled today its free downloadable e-reader app that lets kids read, mix, personalize and share their favorite digital books, games and activities to friends and family. Currently in beta, the new kidthing app is slated for public release this November - featuring e-books from top brands and publishers including Dr. Seuss Enterprises, Penguin Young Readers Group, HarperCollins, Garfield, and more.
"This is a very exciting time in the kids' digital publishing business. The new hardware devices are expensive and limited in both display options and breadth of activities - they can't accommodate the beautiful colors of children's illustrated stories and they can't play games, pictures and videos too." said Larry Hitchcock, CEO of kidthing, inc. "As a free software e-reader and player, kidthing gives parents and kids incredible flexibility - high-speed access to digital content, protected social networking and safe sharing features for kids under 8."
The innovative, new kidthing app is a leap forward in the emerging children's digital publishing market place, delivering so much more than an e-reader...

As a free, software-only, e-reader app, there are no expensive hardware devices such as the Kindle or the nook to purchase.
The kidthing player connects via any Internet connection to a store where kids, families and teachers can browse, preview and buy from a growing variety of top children's publishers, authors and game makers.
Kids can invite their friends, family members and classmates to kidthing to chat and share their favorite e-books, games, pictures and movies under the protective permission of parental controls.
kidthing's proprietary mix technology lets kids (and the whole family) create and play mixes using their favorite e-books, games, and even their own personal pictures and videos that can be shared as easily as dragging and dropping. Teachers can create learning mixes of e-books, interactive learning games, and language tools and then share these mixes with all of the kids at home with a single click.
Favorite e-books can be personalized using kidthing - everyone can record their own voice reading favorite stories and stories can be customized with kid's names and even their own pictures. Personalized content can then be shared as gifts - imagine a loved one recording their voice reading a favorite like "How the Grinch Stole Christmas!".
kidthing's digital sharing is the first of its kind - letting friends share their favorite digital content with their friends by lending, giving or gifting - all with a single click.
kidthing's proprietary social commerce technologies let you buy a recommended share from your friend with a single click.
Availability:
The new free kidthing app is currently in private beta testing and will be available in November at http://www.kidthing.com
Interested people can sign up for the new version at http://www.kidthing.com/beta2
About kidthing:
kidthing is the ad-free, subscription-free, teacher-recommended digital destination that's got parents talking and kids clicking! With our exclusive (and free) multi-media app, kids have anytime, anywhere access to the e-books, games and stuff they want without the dangers of the Net. And since our content is from trusted brands like Dr. Seuss, Penguin Young Readers, Guinness World Records and more, you can rest easy knowing that whatever your kids decide to pick and play, it's age appropriate, engaging, and most of all - fun!
kidthing: a better way to click and play!
kidthing is a proud partner of the National Education Association's Read Across America and a recipient of The National Parenting Center Seal of Approval.
###