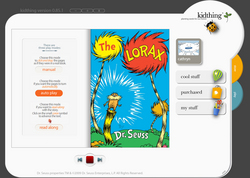 The Lorax teaches us that we must be gentle and respectful to our world. Through this free-to-the-classroom program, we are hoping to introduce important environmental lessons to kids everywhere.
Los Angeles, CA (PRWEB) April 16, 2009
kidthing® and Dr. Seuss Enterprises together with the National Education Association are proud to announce that they will be providing classrooms across America with free copies of an animated special edition e-book of Dr. Seuss's The Lorax in celebration of Earth Day. This announcement comes just after having given teachers across America over $175,000 in digital Dr. Seuss books as part of NEA's recent 2009 Read Across America program. The digital version of Dr. Seuss's classic, The Lorax--only available at kidthing--will be made available to teachers through May 15, 2009.
Perfect for Earth Day
Environmentally perfect for Earth Day and every day, kidthing's digital media player provides a green solution for delivering books, videos and games to schools and families around the globe. Digital products are downloaded once to the free media player, then can be viewed without being connected to the Internet--keeping children safe from the harmful aspects of the Web. kidthing is the sole distributor of Dr. Seuss digital books with fourteen Seuss titles currently available with more titles being added to the kidthing store.
Perfect sense for the next generation of global citizens
"UNLESS someone like you cares a whole awful lot, nothing is going to get better. It's not."
-- Dr. Seuss's The Lorax
Global warming and the impact of deforestation make headlines everyday, yet the concepts behind these issues can be too complex for children to understand. Dr. Seuss's poignant story of the environment and brilliant illustrations combine with kidthing's safe delivery, animation, sound effects and music to make The Lorax a must-have educational tool this Earth Day.
"Today's children will inherit a planet in need of great care and attention, and in partnership with Dr. Seuss we are proud to bring The Lorax to life digitally and to make it available to teachers and classrooms for free," said Larry Hitchcock, kidthing's CEO. "The Lorax teaches us that we must be gentle and respectful to our world. Through this free-to-the-classroom program, we are hoping to introduce important environmental lessons to kids everywhere."
In celebration of Earth Day, kidthing is also launching three new educational games with environmental themes: The Lorax Litter Omitter, The No Mess Express and Trash Dash with Quimby, available today in the kidthing store.
"With global warming and other threats to our environment, The Lorax is even more relevant today than when it was written in 1971," said Susan Brandt, Executive Vice President, Dr. Seuss Enterprises. "kidthing's digital, secure distribution is helping us teach a new generation the importance of protecting the environment."
kidthing's new digital media player is free to download and provides a safe, secure environment for children and families to learn and explore. kidthing is proud to provide an ad-free environment for children. The kidthing store offers a growing number of entertaining games, books, and videos for children 3-11 years of age from some of the world's leading brands. Users can download content which then lives on their personal computer, giving parents control over children's digital media choices.
About kidthing
Created by parents, kidthing is the first and only digital media player created just for kids. Parents can preview and purchase affordable products with prices starting at under a dollar. (kidthing also provides a variety of free content.) Content is downloaded to a kidthing player then viewed anytime and anywhere--without needing to be connected to the Internet. kidthing is also the creator of the recent Dear Mr. President Project, the very special first project in a collaborative series called ConnectingKids projects. These projects provide opportunities for children to share ideas in a safe and secure way. kidthing is based in Los Angeles. Visit kidthing at http://www.kidthing.com.
About Dr. Seuss Enterprises
Dr. Seuss Enterprises was founded in 1993 by Dr. Seuss's widow, Audrey Geisel, in order to maintain the integrity of the original Dr. Seuss books, characters, and their invaluable contribution to children's literacy. The company actively works to ensure that the books and characters maintain their original look and personalities for future generations. Dr. Seuss Enterprises is located in La Jolla, California.
About NEA's Read Across America
NEA's Read Across America is an award winning literacy campaign designed to motivate children to read by making it fun. Read Across America Day, the campaign's signature event, is celebrated on or around March 2, the birthday of Dr. Seuss, the beloved children's book author. Sponsored by the 3.2 million-member National Education Association, Dr. Seuss Enterprises, L.P. and more than 50 national partner organizations, NEA's Read Across America has grown into the nation's largest reading celebration with more than 45 million people participating annually. For more information, visit http://www.nea.org/readacross.