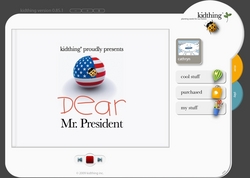 The 'Dear Mr. President' project provides an incredible snapshot into the current social narrative of America at this unprecedented time
Los Angeles and Washington (Vocus) February 13, 2009
Finalists were announced today in the first-ever "Dear Mr. President Project" according to kidthing and the National Education Association (NEA). More than 4,500 submissions representing 47 states and three continents were received from children (ages 5 to 12) interested in sharing their thoughts and ideas with newly inaugurated President Barack Obama. kidthing, creators of the first and only digital media player made just for kids who initiated the project, today announced the 150 finalists who will appear in a special digital publication titled, "Dear Mr. President."
In addition to a free digital copy of the book, which will be available through kidthing beginning President's Day, Monday, February 16, http://www.kidthing.com/dmp, finalists have the distinction of being included in a special hand-bound limited edition print of "Dear Mr. President," which will be hand delivered to the White House.
Throughout January, kidthing and NEA engaged children and classrooms around the globe to share their ideas with the new president. "The 'Dear Mr. President' project provides an incredible snapshot into the current social narrative of America at this unprecedented time," said kidthing CEO Larry Hitchcock. "The children conveyed incredible sensitivity and understanding with respect to the difficult tasks and challenges facing this new president. Their letters are poignant, compassionate and direct about what's on their minds. They shared concerns about the environment, the economy and their hopes for a world in turmoil. I believe President Obama will be proud of their commitment and patriotism and most of all, I believe he will welcome the opportunity to hear their thoughts for our future."
"The 'Dear Mr. President' project has empowered students to be a voice for change in America by writing their own piece of history," said NEA President Dennis Van Roekel. "We learned about the hopes, the ideas, the dreams and the worries that weigh on the minds of young Americans. By teaming up with kidthing, students not only had a unique opportunity to share with their classmates, but also with the global community and with President Obama."
Many of the children's thoughts were accompanied by original artwork. The following are some thoughts they conveyed to the president:
"Dear Mr. President. First I must say that it is an honor to discuss my thoughts with you." -- Alexander, Age 11, Pennsylvania
"My Dad serves in the Air Force as a Tech Sergeant .... He has been deployed a lot.... My dream is to make the war stop. I am tired of my dad being gone all the time. I don't want anything to happen to him. I hope you will be the best president." -- Lonnie, Age 9-1/2, Japan
"... PLEASE TAKE US OUT OF THE WAR !!! I know I'm probably leaving out some details about why you can't just stop the war, but if we have to stay in please don't lie about it." -- Kwesi, Age 10, Ohio
"I think that we just took a big step towards equalness (sic) and fairness. This will help our country to worry about bigger things other than the color of our skin." -- Lauren, Age 12, Ohio
"... On the night of your victory speech, did you look in the eyes of all those people and see those tears streaming down their cheeks? They were not tears of sadness, but tears of joy because they were finally feeling meaningful in this world...." -- Avery, Age 10, Pennsylvania
"My Dad is laid off, and we really do not want to move. So can you help Michigan find more jobs? My other idea was maybe we can find away to use garbage to power things; maybe even cars and electricity. So you know I am just a kid, but I am the next generation and my ideas might work. So think about it." -- Zachary, Age 10, Michigan
"Do you and Mrs. Obama get to do anything fun on the weekends?" -- Kassandra, Age 11-1/2, California
"Just remember when you feel like quiting (sic), everyone looks up to you." -- Jasmine, Age 11, Nebraska
"Dear Mr. Obama, Please make it rain candy!" -- Aaron, California, Age 6
"Dear Mr. President" is the first in a series of ConnectingKids projects from kidthing. These projects are designed to provide creative, collaborative experiences for kids. kidthing will be announcing additional ConnectingKids projects throughout the year. ConnectingKids projects will provide opportunities for children to share their ideas with each other at kidthing. The "Dear Mr. President" project fosters active citizenship among children, using the power of the Internet in kidthing's protected environment.
About kidthing:
kidthing is the first and only free digital media player made just for kids. Created by parents, kidthing provides a safe haven for kids to play and learn away from Web browsers and ads. The kidthing store is filled with a wide variety of fun and engaging products--digital animated books, interactive games, activities and videos from some of the world's leading brands. Parents can preview and buy affordable products with prices starting at under a dollar. (kidthing also provides some free content for parents.) Once purchased, content is automatically downloaded to the kidthing player and can be viewed anytime and anywhere--without needing to be connected to the Internet. kidthing is based in Los Angeles. Visit kidthing at http://www.kidthing.com.
About NEA:
The National Education Association is the nation's largest professional employee organization, representing 3.2 million elementary and secondary teachers, higher education faculty, education support professionals, school administrators, retired educators and students preparing to become teachers.
Contacts:
For kidthing
Karin Olsen
AMAZONpr
310-497-0052
karin(at)amazonpr.com
For NEA
Staci Maiers
202-822-7150
smaiers(at)nea.org
# # #