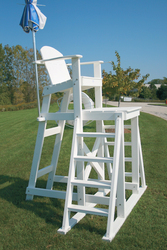 The design of the new dual-mount guard chair is a natural progression of my life's work.
Zion, IL (Vocus) March 24, 2009
Adolph Kiefer & Associates, a name long known for swimming safety, introduced a new lifeguard tower to its Forever™ line. Safety is of paramount importance in aquatics venues, and lifeguards are the key to safeguarding swimmers' enjoyment of the water. With its newest lifeguard tower, featuring dual-mount capability, Kiefer is dedicated to helping lifeguards work more efficiently at creating a safe environment for swimmers.
"Water safety has always been a primary concern of Kiefer, and the tower's dual-mount feature enhances swimmer safety by helping lifeguards keep their attention focused on the water at all times," said Shelley Kiefer. Dual mount capability ensures continuity during shift changes, allowing the outgoing lifeguard to remain vigilant while another ascends to the platform. He or she descends while the other watches the water, such that at least one pair of eyes is always focused on the swimmers. "An alert lifeguard is a patron's best friend when it comes to pool safety. This chair helps lifeguards do their job effectively," Kiefer added.
This tower is the newest addition to Kiefer's line of Forever guard chairs and towers. Made from highly durable, maintenance-free, furniture-grade recycled plastic lumber, Forever guard equipment will not rot, rust or splinter. The equipment never needs paint and is easily cleaned with soap and water. The Forever line also features a slip-resistant texture for the safety of the lifeguard.
The company has a history of safety. Founder Adolph Kiefer developed a program for the navy during World War II that was instrumental in teaching two million American naval recruits how to swim. "My passion for swimming and safety continues today," exclaimed Adolph Kiefer. "The design of the new dual-mount guard chair is a natural progression of my life's work."
For more information about the new Forever Guard Tower and other Kiefer products, visit http://www.Kiefer.com.
About Adolph Kiefer & Associates
Adolph Kiefer & Associates was founded by Olympic gold medalist swimmer Adolph Kiefer in 1947. As the official aquatics supplier to the 1948 U.S. Olympic Swim Team, Kiefer's company introduced the nylon swimsuit as a lightweight alternative to wool and cotton suits and cost alternative to the silk suits used at the time. The 1948 Olympic Games debut launched the revolutionary nylon Kiefer suit to create a competitive swimming standard. Mr. Kiefer continues to dedicate his life to helping swimmers of all ages and abilities pursue dreams of swimming glory. The company sponsors a full calendar of competitive swimming events and is a top competitive swim team supplier. For more about Adolph Kiefer & Associates, visit http://www.Kiefer.com.
Media Contact:
Shelley Kiefer
Adolph Kiefer & Associates
Phone: 847-872-8866 ext. 623
###