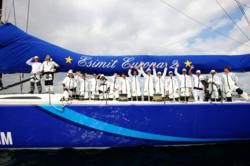 Esimit Europa 2 broke monohull course record between the cities of Kiel and Eckernförde
Kiel, Germany (PRWEB) June 25, 2013
Esimit Europa 2, after achieving two victories at Kieler Woche, the biggest sailing event in the world attended by 3 million visitors, 5000 sailors and 2000 sailing yachts, once again proved to be the best European sailing yacht. Great sailing results were accompanied by sailing with children with disabilities from the Stiftung Drachensee institution, meeting with executives from the yacht's main sponsor GAZPROM, and signing a partnership agreement with adidas Sailing.
The world's fastest and technologically most advanced sailing yacht is now leaving Kiel and moving to Stockholm for the start of the most renowned Swedish regatta, the ÅF Offshore Race with its start on 30 June. The 350 nautical mile race, which rounds the scenic Gotland Island and ends in Sandham, will see the record fleet of extremely attractive yachts, all of them eager to take line honours at this Swedish classic. After its performance in Sweden, the 30-meter canting keel racer will be shipped to the United Kingdom for the start of the Cowes Week at the beginning of August, one of the oldest continuing sporting events in the United Kingdom (established in 1826). The 18-member crew, coming from 10 different European nations, will show its skills at 3 inshore races and prepare for one of the toughest European races, the famous Rolex Fastnet Race. With 608 nautical miles in front of legendary Jochen Schümann and his all-star crew, the Rolex Fastnet Race represents Esimit Europa 2 season's highlight, as well as a big test for the yacht itself due to always unpredictable weather conditions. In addition, the competition will in total enter 380 from 20 countries and will therefore be very tough.
After the Rolex Fastnet Race, Esimit Europa 2 will return to the Mediterranean for 4 races in October, starting with the Bernetti Lombardini Cup and Barcolana in the Gulf of Trieste. On its way to Malta's Rolex Middle Sea Race Esimit Europa 2 will try to break its own course record between the cities of Trieste and Valletta (Medot Sailing Trophy).
The Esimit Europa 2 sails under the flag of the European Union, competes for the Slovenian Sailing Federation and Yacht Club de Monaco and promotes the sailing values of teamwork, solidarity, innovation and collaboration. Main sponsor is the global energy company Gazprom, while BMW is the official partner. The Esimit Europa project is under the patronage of the President of the European Commission, José Manuel Barroso, and is endorsed by Martin Schulz, the President of the European Parliament, and Sergey Lavrov, Foreign Minister of the Russian Federation.
Contact:
Gorazd Mauri
+39 366 675 90 92
gorazd(dot)mauri(at)esimit(dot)com
http://www.esimit.com