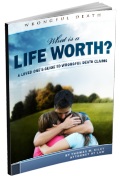 The Kiley Law Group's wrongful death book provides invaluable information and resources pertaining to wrongful death law in Massachusetts...
Boston, MA (PRWEB) February 17, 2012
Wrongful death law is one of the most complex areas of law a person will ever encounter. For someone to handle their own case, they may settle before realizing the true value of the claim, may unwittingly underestimate the value of the claim, may be bullied into accepting an offer that is insufficient, or may miss a critical piece of evidence that may make or break the case. Massachusetts wrongful death claims must meet certain criteria and follow strict guidelines. To ensure that pursuing a wrongful death claim doesn't cost a person more than it gains, Thomas M. Kiley, Sr. of the Kiley Law Group, LLC wrote and released a book, What is a Life Worth?: A Loved Ones Guide to Wrongful Death Claims, that can be downloaded for free on the law firm's website.
Rebuilding, Keeping the Memory Alive
There are no words sufficient enough to describe the devastation that comes with the untimely loss of a family member. The pain of losing a loved one cannot be erased. However, some of the practical injustices can be redressed. Massachusetts law provides the survivors of wrongful death victims with the right to compensation in the form of economic and non-economic damages.
You can't put a price tag on a life. However, a surviving family member of a person who has suffered a wrongful death will suddenly be asked to put a number on their loss and grief, and on that of his or her family. Yet another challenge, an individual will be required to defend that number to a judge and jury. Some numbers, referred to as economic damages, are easily identifiable and difficult to argue: lost salary, any medical bills accrued prior to death that resulted from the deadly accident, funeral expenses, and other financial losses. But in many states – including Massachusetts – a person is also entitled to non-economic damages for a wrongful death, which refers to pain and suffering as well as loss of companionship.
The Kiley Law Group's wrongful death book provides invaluable information and resources pertaining to wrongful death law in Massachusetts as a way to help individuals who have lost a loved one in an accident or incident caused by another's negligent or reckless behavior. The book is structured as follows to best help a person seeking useful information about wrongful death law understand what steps they can take in the process of filing a wrongful death claim:
1. Introduction
2. What is a Life Worth?
3. Wrongful Death Basics
4. Types of Wrongful Death Cases
5. The Wrongful Death Claims Process
6. Dealing With Insurance Companies
7. Do I Need an Attorney?
8. Getting the Support You Need
9. What My Law Firm Does for You
10. Our Cases and Verdicts
Difficult Questions, Proactive & Compassionate Answers
After losing someone you care about in an accident, the questions that need to be answered can seem endless, daunting even. Although difficult questions are often upsetting to wonder and ask, the answers can bring some degree of peace, resolution, and closure.
In brief, a few of the many frequently asked questions and answers addressed in Tom Kiley's wrongful death book include the following:
o Who can be held accountable? – Depending on the circumstances of why a wrongful death occurred, one party or multiple parties may be held legally responsible, including: individuals, employers, a corporation, a group of partners, public employees, entities in charge of maintaining public thoroughfare, and the government.
o When should I file? – Frankly speaking, filing as soon as you've consulting with an experienced lawyer may be the best time because of specific, and strict, time restrictions referred to as a "statute of limitations." For instance, there is a two year statute of limitations on defective ways claims. Some factors that influence your wrongful death filing expiration date relate to the type of wrongful action, whether or not a government entity played a role, and the age of the deceased.
While these questions, and many others, are in no way easy to think about let alone ask out loud, knowing the answers to these questions can be extremely helpful for a person who is seeking to better understand the death of their loved one as well as how wrongful death law works.
Tradition. Tenacity. Trust.
Tom Kiley's wrongful death book provides free information about wrongful death law, offers suggestions as to how to cope with the loss of a loved one in the face of many obstacles, and shares some insight gained from several decades of experience helping surviving family members with wrongful death cases. For more than 30 years, Tom Kiley, Sr. has worked meticulously and with compassion as a Boston wrongful death attorney to ensure that family members of those killed due to acts of negligence obtain full and just compensation for damages and losses. Tom Kiley, Sr., Tom Kiley, Jr., and the legal team at the Kiley Law Group, LLC, apply thorough legal knowledge, experience, and resources to protecting the rights of their clients and holding negligent parties legally responsible.
# # #