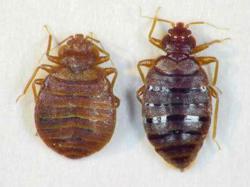 Creators of Bed Bug Bully offer complimentary sample in response to new ordinance of households with bed bug outbreaks to help subside bed bug exterminator fee's..
Chicago, IL (PRWEB) January 30, 2013
An increase of bed bug cases was seen in Chicago for the year 2012. Because of that, a trio of the city's aldermen proposed a new "bed bug"ordinance, said a report from the chicagotribune.com. In relation with that, My Cleaning Products suggested to the residents the use of a pesticide-exempt product to kill bed bugs.
As stated by the report, the proposed ordinance was submitted by Ray Suarez, 31st; Harry Osterman, 48th; and Debra Silverstein, 50th. Basically, it requires landlords to take the necessary actions or spend whatever amount is needed for a bed bug treatment. Otherwise, they would be fined of up to $1 000 a day.
The proposal was discussed on Tuesday, detailed the report, but was not passed yet. Ald. George Cardenas, 12th, stated revisions will be made on it. He made it clear though that it will get enacted in one form or another.
Here's a part from the report:
"A proposed ordinance declaring bedbugs "a public nuisance" is set for a hearing Tuesday at a joint meeting of the City Council Health and Housing committees. The measure would make landlords responsible for hiring licensed professionals to get rid of any bedbug infestations. Those who fail to comply would face fines of up to $1,000 a day."
My Cleaning Products said that to kill bed bugs is the ultimate way to stop the pests from causing problems. So to help the residents beat them and to aid the landlords decrease their bed bug treatment expenses, it suggested the use of an organic-based bed bug product called Bed Bug Bully.
The website stated that there are several methods to get rid of the pests. Nonetheless, it said that a person should implement a non-chemical method as the blood-fed crawlies have developed resistance even to the best chemical to kill bed bugs.
In addition, it said that chemical-based techniques endangers the health of the user and that of anyone else who could be exposed it. Hence, it said it is better to kill bed bugs with heat, cold or the best-selling bed bug spray that kills on contact.
Of all those non-chemical methods, My Cleaning Products specified the use of an organic-based bed bug spray as the best to implement. It reasoned that it is a safe, effective and inexpensive way to clear the pests.
But among the chemical-free bed bug sprays, it only recommended Bed Bug Bully. It asserted that the use of it makes the best trick to eradicate the pests as it works quickly without risking the health of anybody. Moreover, it shared that it is an approved minimum-risk pesticide as stated in FIFRA 25(b).
To see how well Bed Bug Bully works, My Cleaning Products encouraged the public to try a sample of it themselves. It related that samples are available at MyCleaningProducts.com.