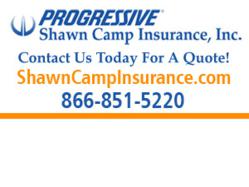 They have been a trusted source for Texas Auto Insurance
Killeen, TX (PRWEB) November 16, 2011
Shawn Camp Insurance, Inc. is making a recommitment to its customers. They have been a trusted source for Killeen Auto Insurance in the Texas area for many years, and are now promising again to focus on the excellent service they are known for. Every year more and more individuals turn to the professionals at Shawn Camp Insurance, Inc. for their knowledgeable advice - the advice that will protect them in the event of a loss.
After an accident is not the time anyone wants to learn they are not carrying enough insurance to adequately cover an insurable incident. With so many contingencies to plan for, and legal considerations to make, it is a great relief to Killeen, Copperas Cove, Gatesville, and Temple residents to know the assets they have worked so hard to accumulate are being protected by the professionals at Shawn Camp Insurance, Inc. Everyone's situation is unique, and it takes a well-trained insurance agent, fluent with the most recent laws and latest coverage changes, to be able to properly advise what type of policies to purchase.
In keeping with their recommitment to superior service Shawn Camp Insurance, Inc. recently released their fully interactive website at http://www.ShawnCampInsurance.com/. The website, coupled with their highly trained agents demonstrates Shawn Camp Insurance, Inc.'s commitment to service excellence.
# # #