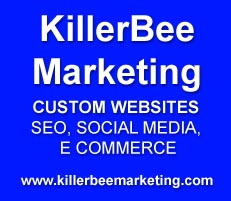 Cheri states "With our dedication to our customers and our new hosting company I believe we are poised to have a great 2012." She just may be right if early customer feedback is any indication!
(PRWEB) March 21, 2012
KillerBee Marketing is a web design company that now specializes in SEO and website hosting, with the best and brightest web designers and digital artists. Founded in 2009, and with the new co-owner Cheri Morey, they've just added a pro to the team, who brings more than 15 years of web design experience.
They are not a company you'd find on a local street corner but it doesn't stop them from providing a superior customer experience.
Making waves in the SEO and Website Services, KillerBee Marketing has received three search engine optimization certificates to beef up their reputation. And they have just launched their own hosting company where they are offering more than just hosting. Visit http://killerbeemarketing.com and http://killerbeehosting.com