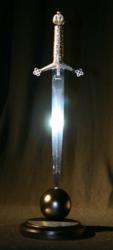 The Claymore Award grabbed the attention that a first time writer needs to be taken seriously within the publishing industry." D. Alan Lewis
Nashville, Tennessee (PRWEB) May 22, 2013
June 1, 2013 is the last chance for writers to submit their unpublished manuscripts to Killer Nashville's 2013 Claymore Award contest. The contest offers aspiring authors more than $1,500 worth of prizes, plus a possible book advance and publication, plus possible agent representation.
As a direct result of entering the contest, Jonathan Stone, the author of last year's winning manuscript signed with an agent and landed both a major publishing contract and a movie option.
Judith Daily, a past Claymore Award winner says, "Because of Killer Nashville, I now have a contract with Five Star Mysteries for my cozy, 'Animal, Vegetable, Murder.' I couldn't be happier."
Any author may enter (published or not); however, the contest is limited to the first 50 pages of unpublished mystery, thriller, or crime fiction manuscripts not currently under contract. Winners are determined through a blind judging process. Judges will consider any subgenre of mystery, thriller, or suspense. All manuscripts must be postmarked or submitted electronically no later than June 1, 2013.
The winner will be announced at the awards ceremony during the Killer Nashville Guest of Honor dinner on the evening of Saturday, August 24, 2013.
Learn more about Killer Nashville's Claymore Award contact us at claymore(at)killernashville(dot)com.
Held annually on the four days surrounding the fourth weekend in August, the Killer Nashville's Writers' Conference was created in 2006 by writer / filmmaker Clay Stafford to bring together forensic experts, writers, and fans of crime and thriller literature.