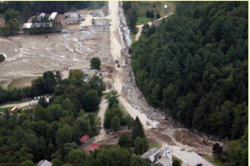 "We are so very proud to be affiliated with such strong and resilient folks…we thank you for your unfiltered reports... They truly mean a great deal to us." - Jill and Richard, Killington second homeowners.
Killington, VT (PRWEB) September 09, 2011
Wise Vacations, the Killington area's largest vacation rental company, successfully met a challenge last week during the aftermath of Hurricane Irene. Killington was completely cut off as a result of 3 main arteries leading to the Access Road sustaining major damage due to over flowing waterways. The company's challenge was gaining access to the 200+ private homes and condominiums they manage and rent out. No doubt the second homeowners who put the care of their investments into the able hands of the Wise Team were anxious to know the fate of their homes.
Since transportation was not an option, the Property Management team at Wise took matters into their own hands. One staff member volunteered to hike and mountain bike his way to the mountain to access the office vehicle marooned in Killington. Ultimately, managed properties were checked and assessed, under demanding circumstances. Owners were informed in a timely manner, and communication from the Property Management Team to Wise's owner base was done on both a mass email communication scale, and an individual and personalized attention level.
In the days immediately after the storm and still to date, accessing Killington's Access Road requires a hike through the woods, and multiple modes of transport. The dedicated Wise staff did not think twice about the complicated travel required to get the job done. All in all, Wise's customers were given the peace of mind that comes with having a professional property management company manage their home. Second homeowners who do not have a Killington property management company have reached out to Wise Vacations and are receiving similar confidence that their home will get the same attention not only during this emergency but ongoing in the future.
"I'm inordinately proud of my staff and we are clearly on the front lines in Killington in doing what it takes to get to our homes. It's taken hiking, mountain biking, and in some cases, crossing unstable road washouts on foot in Killington East to clamber up to homes. Jeremy is our newest Property Manager, and I'm in awe of his commitment to getting there. Lisa has worked communications to exhausting detail, contacting owners and fielding owner questions."- Sally Sweet, Owner, Wise Vacations.
Work continues on all 3 roadways leading to Killington and reconstruction is expected to continue into October, but will be done in time for the winter ski season. Fall events are still expected to take place, and Killington is planning a welcome back party for their featured Fall event, the Killington Brewfest.
About Wise Vacations
Wise Vacations is a locally owned and operated full service vacation rental company and has been doing business based in Killington, VT for over 30 years. For more information and to book a Killington or Smugglers' Notch vacation visit http://www.wisevacations.com
###