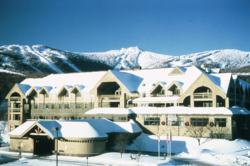 The Inn of the Six Mountains is the best value in Killington, Vermont.
Killington, VT (PRWEB) January 24, 2012
The Inn of the Six Mountains is offering two weekday nights (Sunday through Thursday) for $150 plus tax. The price includes complimentary hot breakfast. This offer is based on availability and must be booked by January 31, 2012. Payment is due at time of reservation.
The Inn is located on the Killington Access Road and is minutes from world class skiing and snowboarding.
About the Inn of the Six Mountains:
The Inn of the Six Mountains is a Killington, Vermont resort hotel nestled in the scenic Green Mountains of the Appalachian Trail. It features 99 cozy guest rooms, and four one-bedroom family rooms tastefully decorated with Vermont-inspired furnishings. This rustic décor is complimented by modern amenities.
Whether you want to ski in winter, golf in spring, attend the award-winning New Life Hiking Spa in the summer or spectacular leaf peeping in the fall, guests will find it staying at the Inn of the Six Mountains.
Complimentary amenities include: fully cooked hot breakfast buffet (mid December - early April), complimentary continental breakfast during the remainder of the year, shuttle service to and from the ski resort (Winter only), Board Games, DVD Games, Treats in lobby at 4 during the winter (apple cider and freshly baked cookies), use of computer in lobby to check email, and wireless Internet in public areas.
More information can be found on the website at http://www.sixmountains.com or by calling the hotel at 802-422-4302.
###