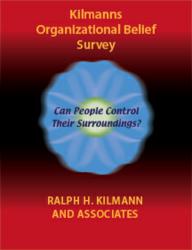 Without developing a collective belief in Internal Control, an organization cannot change and improve its performance, even with the best of intentions.
Newport Coast, CA (PRWEB) March 20, 2012
For the past few years, Kilmann Diagnostics (KD) has been providing its customers with the online version of the Thomas-Kilmann Conflict Mode Instrument (TKI) as well as two online courses that help participants interpret their TKI results and then enhance their skills for managing conflict in organizations.
But KD just added a new assessment to its product line: Kilmanns Organizational Belief Survey. This survey assesses members' beliefs about, "Who controls what happens to me in this organization?" In particular, such cause-and-effect beliefs largely determine whether management's latest change initiative will fall on deaf ears or will actually succeed in rallying the troops to improve things. Essentially, if employees believe that nothing can be done to improve their organization (because of all the previous change initiatives that have come and gone with disappointing results), the handwriting is already on the wall: Nothing of significance will change no matter how much money management spends on new training or improvement programs.
The Belief Survey provides the respondent with thirty statements, across a wide range of workplace topics, that question whether or not he can control what goes on in his organization. Two examples are: (1) I can negotiate changes in my job objectives and priorities with my boss. (2) I can persuade my coworkers to be team players. The respondent is asked to express his belief about each of the thirty statements by circling a number on a five-point scale, from 1 (I strongly disagree) to 5 (I strongly agree).
It takes about fifteen to twenty minutes to read the Belief Survey's instructions, respond to all thirty items, and then calculate a "control score." Afterward, it takes respondents a few more minutes to develop a number of Organizational Belief Profiles that compare their own results with the numerical average of their work group's, department's, and organization's control scores.
The survey then defines three beliefs: (1) "External Control" means you believe that most of what goes on in your organization is determined by outside forces: your coworkers, your boss, your work group, your department, your organization, or people outside your organization (such as customers and suppliers). (2) "Internal Control" means you believe that most of what goes on in your organization is determined by inside forces: your own attitudes, decisions, actions, and efforts to influence your surroundings. (3) "Mixed Control" means you believe that sometimes you can control what goes on, while at other times you cannot influence much at all.
By discussing their Organizational Belief Profiles in work groups, members will be able to rethink whether their perceptions of various constraints, limitations, and restrictions in the current situation are actually real or largely imagined from outdated—bad—experiences in the past. An open, candid, and thoughtful discussion along these lines will then help to align individual—and collective—beliefs with reality, which is more likely to foster constructive action than continued resignation.
Ultimately, the challenge is to question any individual's, work group's, or department's beliefs about External Control—especially during those times when the organization is trying to improve its functioning. Employees need to test their reality explicitly, rather than assuming—unknowingly—that they cannot control what goes on in their organization even when they are being given a sincere opportunity to do so. Indeed, without developing a collective belief in Internal Control, an organization cannot change and improve its performance—even with the best of intentions.
Kilmanns Organizational Belief Survey is available in a 24-page paper booklet for $12.95 from either Amazon or Barnes & Noble (and is also available in the U.K. and other countries). The survey booklet includes the instructions, items, scoring sheet, numerous profiles, interpretive materials, and several examples to help respondents understand the implications of different survey results. And if consultants and members wish to learn how the Belief Survey can be used as part of a systemwide program to revitalize an organization's corporate culture, Kilmann Diagnostics offers a six-hour online course on just that topic: Culture Management.
KILMANN DIAGNOSTICS
Since 2009, the mission of Kilmann Diagnostics is to resolve conflict throughout the world by providing online courses with the Thomas-Kilmann Conflict Mode Instrument (TKI) and other assessment tools. KD is the exclusive provider of online training for the TKI—worldwide. Visit: Kilmann Diagnostics.
ABOUT RALPH KILMANN
Ralph H. Kilmann, Ph.D., is CEO and Senior Consultant at Kilmann Diagnostics in Newport Coast, California. Formerly, he was the George H. Love Professor of Organization and Management at the Katz School of Business, University of Pittsburgh—which was his professional home for thirty years. He earned both his B.S. and M.S. degrees in industrial administration from Carnegie Mellon University (1970) and a Ph.D. degree in management from the University of California, Los Angeles (1972).
Dr. Kilmann is an internationally recognized authority on systems change. He has consulted for numerous corporations throughout the United States and Europe, including AT&T, IBM, Ford, General Electric, Lockheed, Olivetti, Philips, TRW, Wolseley, and Xerox. He has also consulted for numerous health-care, financial, and government organizations, including the U.S. Bureau of the Census and the Office of the U.S. President.
Kilmann has published twenty books and more than one hundred articles on such subjects as conflict management, organizational design, problem management, change management, and quantum organizations.