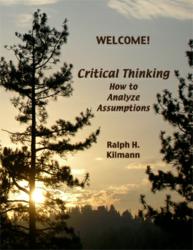 Because the world has changed so dramatically during the past few decades, so many of our assumptions that used to be true are now clearly false.
Newport Coast, CA (PRWEB) April 24, 2012
Kilmann Diagnostics (KD), the exclusive provider of online training for the Thomas-Kilmann Conflict Mode Instrument (TKI), has also developed a five-step process for helping people to define and solve their most complex problems: (1) sensing problems, (2) defining problems, (3) deriving solutions, (4) implementing solutions, and (5) evaluating outcomes. Whether facing problems in one's home or vocational life, making an error in any of these five steps will prevent any problem—or conflict—from being resolved to the satisfaction of all key stakeholders.
But how do people (or the members of an organization) make sure they don't commit a debilitating error in problem management, such as not correctly defining the root cause of a problem or failing to implement the chosen solution?
According to Dr. Ralph Kilmann, CEO of Kilmann Diagnostics, that's when critical thinking—along with and the proven method of assumptional analysis—is needed the most: "Since the world has changed so dramatically during the past few decades, so many of our assumptions that used to be true are now clearly false. Stemming from our ingrained behavioral habits, conditioned belief systems, and slow-to-change corporate cultures, it's not surprising that people continue to approach their most complex problems and conflicts in the same way, year after year.
"Underlying all decisions and actions are some very basic assumptions about cause and effect, what key stakeholders want and need, and how to change and improve an organization. But if we are wrong about our underlying assumptions, we can't possibly define and solve today's complex challenges. To me, critical thinking for today's world requires everyone to learn how to manage their hidden assumptions—very explicitly and mindfully."
In the Critical Thinking Course, participants first review the five steps of problem management before they learn the additional steps of assumptional analysis. The online course then focuses on a business case, where participants are asked to analyze the assumptions behind a hospital's efforts to address its patient complaints (the presumed problem) by informing all employees, by e-mail, the new seven values that should now guide their daily behavior (the chosen solution). Reviewing this engaging and all-too-familiar organizational experience, participants become increasingly aware of the kinds of hidden—often ridiculous—assumptions that still lurk behind most corporate decisions. And as course participants learn (and practice) the steps of assumptional analysis, their subsequent decisions will be based on today's realities, not yesterday's fantasies.
The fee for the six-hour, recorded Critical Thinking Course is $400, which includes a professionally designed, 96-page Course Manual. The group rate, if 10 or more of these courses are purchased at the same time, is $325 per person.
KILMANN DIAGNOSTICS
Since 2009, the mission of Kilmann Diagnostics is to resolve conflict throughout the world by providing online courses with the Thomas-Kilmann Conflict Mode Instrument (TKI) and other assessment tools. KD is the exclusive provider of online training for the TKI—worldwide. Visit: Kilmann Diagnostics.
ABOUT RALPH KILMANN
Ralph H. Kilmann, Ph.D., is CEO and Senior Consultant at Kilmann Diagnostics in Newport Coast, California. Formerly, he was the George H. Love Professor of Organization and Management at the Katz School of Business, University of Pittsburgh—which was his professional home for thirty years. He earned both his B.S. and M.S. degrees in industrial administration from Carnegie Mellon University (1970) and a Ph.D. degree in management from the University of California, Los Angeles (1972).
Dr. Kilmann is an internationally recognized authority on systems change. He has consulted for numerous corporations throughout the United States and Europe, including AT&T, IBM, Ford, General Electric, Lockheed, Olivetti, Philips, TRW, Wolseley, and Xerox. He has also consulted for numerous health-care, financial, and government organizations, including the U.S. Bureau of the Census and the Office of the U.S. President.
Kilmann has published twenty books and more than one hundred articles on such subjects as conflict management, organizational design, problem management, change management, and quantum organizations.