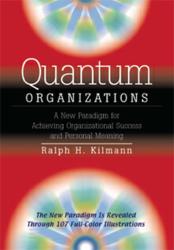 As self-aware consciousness increases in the workplace, organizations will achieve greater success in the marketplace.
Newport Coast, CA (PRWEB) May 09, 2012
Kilmann Diagnostics (KD) offers a series of recorded online courses that integrate conflict management with change management—making use of the Thomas-Kilmann Conflict Mode Instrument (TKI) and other assessment tools. These online courses and self-report surveys were expressly developed to bring the eight tracks of self-transformation to a wider audience. KD now offers the classic 2001 hardcover book in a new paperback edition that explains all the theories and practices behind its complete program of online courses, assessments, and workbooks.
Dr. Ralph Kilmann, the CEO of Kilmann Diagnostics, has organized more than thirty years of his research, teaching, and consulting knowledge base into his twentieth book: Quantum Organizations: A New Paradigm for Achieving Organizational Success and Personal Meaning.
In Dr. Kilmann's words: "I created my seminal book for the purpose of bringing greater mindfulness and an engaging work life into all organizations, so people will be able to contribute their unique experience, wisdom, and passion to their vocation. As self-aware consciousness increases in the workplace, organizations will achieve greater success in the marketplace. Organizational success and personal meaning are two sides of the same coin: living a purposeful and happy life."
Dr. Kilmann added this observation: "The new paradigm of self-aware consciousness is in sharp contrast to the old mindset of machine-like thinking that can only produce bureaucratic and boring organizations. The deep engagement of employees is blocked by the old paradigm, which still dominates the organizational landscape despite all the rhetoric of corporate revitalization, turnarounds, and transformation."
Companies often proclaim that employees are their most valuable asset. But the truth of this assertion, according to Kilmann's book, entirely depends on whether a company actively encourages its employees to expand their self-aware consciousness: a strong sense of self, a confident knowledge of one's destiny and soul's purpose, a felt connection with all other beings and the planet Earth, and the capacity for expressing these enlightened qualities everyday on the job. Indeed, increased creativity, continuous innovation, and deep engagement can only occur if employees know who they are at the core of their being and then feel free to contribute all of themselves in the workplace.
The switch from an old bureaucratic to a new quantum organization is accomplished through eight sequential tracks of planned change. The "first three tracks" consist of (1) the culture track, (2) the skills track, and (3) the team track.
These first three tracks develop the behavioral infrastructure (the informal systems) to support self-aware consciousness. The culture track closes the gap between the conditioned habits of the past and the mindful behaviors that will support success and meaning in a global marketplace. The skills track enables all employees to define and solve complex problems with diverse others, which includes surfacing and revising false—frozen—assumptions from the past. The team track transfers the updated cultural norms and the critical thinking skills into every work unit in the organization—so knowledge, experience, and passion will become infused into every decision and action.
Building on this behavioral infrastructure from the first three tracks, the "middle two tracks" now have the best chance of being implemented with success: (4) the strategy-structure track and (5) the reward system track. A large group of self-aware employees, representing all areas and levels in the organization, can now address these vital questions: (a) Where are we headed? (b) What is the best way to organize our resources to get there? (c) And what do we externally receive—and internally experience—while contributing all our wisdom and energy?
Making use of all the culture, skills, and teamwork developed during the first three tracks, particularly conflict management, problem management, and the method of assumptional analysis, members self-design and then self-manage their formal systems—which not only requires self-aware consciousness, but further expands consciousness through active employee participation across traditional departmental and hierarchical boundaries.
Once the behavioral infrastructure (via the first three tracks) have enabled members to renew and align their strategy-structures and reward systems (via the middle two tracks), the "last three tracks" now have the best chance to be implemented effectively: (6) the gradual process track, (7) the radical process track, and (8) the learning process track.
Self-aware employees gradually recognize why the prior tracks are essential for improving processes within aligned systems. These enlightened participants also realize why previous efforts at total quality management, business process reengineering, or organizational learning were doomed to fade away with disappointing results: Without a healthy culture, effective skills, widespread teamwork, and aligned formal systems, it's nearly impossible to add real economic value and then sustain lasting improvements in any work process—no matter how well-intentioned.
Kilmann's book, Quantum Organizations, presents the foregoing theories and practices with the aid of 107 full-color illustrations. His integrated and colorful artwork brings all the revolutionary material to vibrant life. "Quantum Organizations" is available through amazon.com, barnesandnoble.com, and other booksellers in the U.S. and abroad.
An added bonus: Kilmann Diagnostics also offers a series of online courses to help people understand—and implement—the tracks to organizational success, as described in Quantum Organizations: The culture track is the subject of a six-hour online course: Culture Management. The skills track is covered in another six-hour course: Critical Thinking. The team track is then addressed in a four to eight-hour experiential course: Team Management. Since each of these three tracks requires a deep understanding of conflict management and problem management, participants are advised to begin their online training program with the eighty-minute BASIC Training in Conflict Management and/or the eight-hour ADVANCED Training in Conflict Management. Conveniently, all five online courses are also packaged as The Complete Program.
In the future, Kilmann Diagnostics plans to develop additional online courses to address strategy-structure, the reward system, and process management.
KILMANN DIAGNOSTICS
Since 2009, the mission of Kilmann Diagnostics is to resolve conflict throughout the world by providing online courses with the Thomas-Kilmann Conflict Mode Instrument (TKI) and other assessment tools. KD is the exclusive provider of online training for the TKI—worldwide. Visit: Kilmann Diagnostics.
ABOUT RALPH KILMANN
Ralph H. Kilmann, Ph.D., is CEO and Senior Consultant at Kilmann Diagnostics in Newport Coast, California. Formerly, he was the George H. Love Professor of Organization and Management at the Katz School of Business, University of Pittsburgh—which was his professional home for thirty years. He earned both his B.S. and M.S. degrees in industrial administration from Carnegie Mellon University (1970) and a Ph.D. degree in management from the University of California, Los Angeles (1972).
Dr. Kilmann is an internationally recognized authority on systems change. He has consulted for numerous corporations throughout the United States and Europe, including AT&T, IBM, Ford, General Electric, Lockheed, Olivetti, Philips, TRW, Wolseley, and Xerox. He has also consulted for numerous health-care, financial, and government organizations, including the U.S. Bureau of the Census and the Office of the U.S. President.
Kilmann has published twenty books and more than one hundred articles on such subjects as conflict management, organizational design, problem management, change management, and quantum organizations.