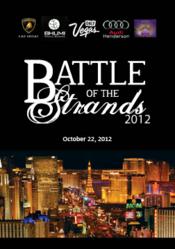 This competition is undoubtedly one of the more important hair and makeup competitions in Las Vegas!
Las Vegas, Nevada (PRWEB) October 08, 2012
All hair tools are hot for the Battle of the Strands 2012 competition, which takes place at The Joint, Hard Rock Hotel Casino Las Vegas on October 22, 2012 at 8:00PM following the three-day Vegas Beauty Unbound Event for contenders and attendees.
This hair, make-up, costume, props, and execution impact competition will be a challenge for 12 final competitors who will be whittled down to five at the Final Battle. Four respected industry judges, Kandee Johnson, Celebrity Makeup Artist and YouTube Personality, Rafe Hardy, Artistic Creative Director of Sexy Hair, Lori Montoya, a Las Vegas High Roller Star and Fashion Designer, Nick Verreos will pick a winner based on a variety of categories. The winner will receive the coveted Xtreme Salon 2012 title.
"This competition is undoubtedly one of the more important hair and makeup competitions in Las Vegas," said Kim Vō, Vegas Beauty Unbound: Battle of the Strands 2012 Host and Celebrity Hair Stylist. "It brings awareness to Las Vegas hair salons while encouraging creativity, a constant need to challenge oneself, and above all to have fun doing it! We are so excited for all the competitors and attendees to enjoy Battle of the Strands and hope that they go home inspired to try a new style or salon!"
On the nights leading up to Battle of the Strands, Celebrity Hair Stylist, Kim Vō, co-hosts the Unveiling Party at the Hard Rock Hotel Casino, Las Vegas Vanity Night Club with T.V. host, weather anchor, model and actress Leticia Castro on October 20, 2012 at 7:00PM. Attendees and competitors will be able to mix and mingle with the styling pros and celebrities at the grand unveiling of the theme of Battle of the Strands. The following night, Vō will co-host Beauti Gras at the Vanity Night Club on October 21, 8:00PM with news anchor and reporter, Dayna Roselli. Called Beauty and Beads, the Beauti Gras party exemplifies the over-the-top fashion and style that results from Battle of the Strands. Party-goers have a chance to win real diamonds at Beauti Gras where never seen extravagance blends beauty, Mardi Gras, and Vegas. Disc Jockey Nick Ayler will entertain guests throughout Vegas Beauty Unbound with music matching the extravagance of the Beauti Gras party while providing an upbeat tempo for competitors to style to during Battle of the Strands 2012.
Vegas Beauty Unbound: Battle of the Strands 2012 is an annual competition that is possible thanks to the efforts, aid and due diligence of their sponsors. 2012 sponsors include Schwarzkopf Professional, Sexy Hair, FROMM, Televisa Publishing+Digital, Bhumi Makeup Brushes, Audi Henderson, Lamborghini Las Vegas, LookTV, m3K Beauty LLC, and the Las Vegas Convention Center.
The Battle of the Strands competition welcomes hundreds of attendees, salon owners, stylists and other V.I.P. celebrities to come and enjoy Vegas Beauty Unbound and the Battle of the Strands 2012 competition.
For a full Vegas Beauty Unbound schedule, please visit http://vegasbeautyunbound.com/schedule/.
If you are interested in attending Vegas Beauty Unbound and would like to purchase tickets, please visit http://vegasbeautyunbound.com/book-now/.
About Vegas Beauty Unbound
From October 20-22, 2012, Vegas Beauty Unbound will descend on Las Vegas to create a conscious awareness of the transforming Beauty Industry. Beauty professionals and industry icons will participate in strategic education and networking sessions, experience new tools, and witness and participate in explosive battles that challenge them in new ways.
In addition to the Battle of the Strands, Vegas Beauty Unbound will feature the Mane, Style, and Face Forum, which will present educational classes for beauty professionals to introduce exciting new tools, colors, and opportunities to market their skills in the ever-changing social media marketing realm. The event will culminate in a spectacular runway fashion show styled by Celebrity Master Colorist Kim Vō. The latest products will be unveiled in the New Generation of Beauty Trade Exhibit. The Forum will also feature the Art & Beauty Unbound Student Competition as well as the Beauti Gras Halloween Celebration, a Mardi Gras done Vegas style, held at Body English, on October 21st.
For More Information
To submit celebrity talent or register for media credentials, please contact Mari Escamilla at Marketing Maven Public Relations via phone or email: (310) 994-7380 or mari(at)marketingmavenpr(dot)com.