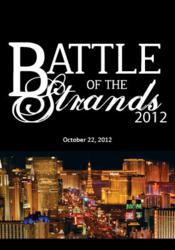 These 22 Salon Teams have shown how extreme they are not simply by their unique talent, but also by their passion to get their message across.
Las Vegas, Nevada (PRWEB) September 03, 2012
Battle of the Strands 2012: Xtreme Beauty, the most extreme salon competition in history, is pleased to announce that voting for finalists to compete in Las Vegas is off to an explosive start.  The 22 Teams of Hairstylists & Makeup Artists who have made it to the cut are among the top in the country with winners of prestigious national competitions, featured in multiple beauty & fashion magazines & television shows.
Since voting began on Monday, August 29, the Battle of the Strands: Xtreme Beauty website has registered more than 10,000 unique visitors and over 50,000 page views in less than 72 hours.  More than 7000 people have voted for 22 salons, that number will definitely expand as celebrity clientele and local media become aware of their successes.
"These 22 Salon Teams have shown how extreme they are not simply by their unique talent, but also by their passion to get their message across." said Elena Long, Communications Director.  "We are only looking at the tip of the iceberg, we still have 10 days of voting to go. Local media from the varied cities have started contacting us because their hairdressers have requested them for support", she added.
Presently, the top 5 salons with the top votes include Fringes Salon, Omaha, NE; Plush Salon, Chatsworh, CA; Mile High Magic, Denver, CO; Oasis Salon, Victorville, CA; and Body Spa Salon, Las Vegas, NV. To review all team entry videos, profile, and vote, visit battleofthestrands.com
Public online voting ends on September 12, first round elimination judges including Master Colorist Kim Vo, Celebrity Stylist Kari Kisch, 2011 Judge & Vegas Salon Owner Lyle Malapit and a Special Guest Judge will review the complete profile of each of the 22 Teams.  While online votes represent only 40% of each team's final score, Judges will base the 60% on the contender's submission videos and additional items submitted and posted on their section, which demonstrates their passion and how extreme their team truly is.  This will assist in selection of the 10 finalists who will be flown all-expenses paid to compete in Las Vegas.  The teams have been advised to be alert for new announcements on the website.
"This is a once-in-a-lifetime salon competition," stated Kim Vo former Sheer Genius Judge and host of Battle of the Strands 2012. "This year's entries are diverse, creative, and highly visionary. Its a showdown of champions against champions. The battle has just began and I can't wait to see who among the 22 contenders will take my team's place as last year's winner".
About Battle of the Strands: Xtreme Beauty
Produced by Vegas Beauty Unbound, Battle of the Strands 2012: "Xtreme Beauty" is the centerpiece of a three-day beauty extravaganza in Las Vegas from October 20-22. The competition pits 10 top and unknown salons from across the country in a head-to-head battle of outrageous challenges to showcase creativity and teamwork in extreme situations.
The Top 5 will compete in the grand finale at The Joint, Hard Rock Casino Hotel. Celebrities and  industry icons will judge and crown a winner. The entire event will be filmed and broadcast on LookTV and via other national cable outlets, with thousands more in attendance.
About Vegas Beauty Unbound
Vegas Beauty Unbound's other marquee of events include the Mane, Style, and Face Forum, including a social media strategy seminar hosted by one of Google's pioneers, a spectacular runway show hosted by Kim Vo, a Trade Show Exhibit, Student Competition, and Beauti Gras Mardi Gras style Halloween Party at Body English.
For More Information
For more information about the event or to request media credentials, please contact Elena Long, Communications Director of Battle of the Strands, at 702/990-3368 or 702/612-0394, email elena(at)emailbestbeauty(dot)com or visit vegasbeautyunbound.com