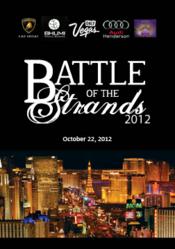 We have unbelievable creativity in our industry and Chicago is no exception. I want to get the word out to help salons with incredible talent reach the next level.
Las Vegas, Nevada (PRWEB) July 23, 2012
Vegas Beauty Unbound, producers of the epic salon competition, Battle of the Strands 2012: Xtreme Beauty, Fromm International, a designer and manufacturer of world-class salon products for the professional beauty industry, and Bhumi Makeup Brushes are proud to announce that Stila Cosmetics and Schwarzkopf Professional have confirmed as additional sponsors for the exclusive birthday celebration of celebrity colorist and stylist, Kim Vo, as he searches for the country's best salon teams to create Xtreme Beauty.
Attendees will include stylists and beauty professionals, with media and other prominent beauty brands. It will be held on July 30 from 5-8 pm at Fromm International's headquarters in Chicago, 603 Dempster Street, in Mount Prospect, IL.
In addition to a birthday celebration for Kim Vo, it will serve as a networking event, a prequel to the epic salon battle, and an open call for beauty salon artists who would like assistance filming entries for Battle of the Stands 2012: Xtreme Beauty, which Kim Vo will host. Stila's makeup artisans will be on site to consult with beauty salon teams who register to have their entry videos filmed and Bhumi will make its professional brush line available for entrants. Project Runway Producer's Look TV will be present to catch the action and behind-the-scenes footage of this exciting event leading up to the final showdown in Las Vegas.
Interested salon teams will present their team's unique qualities, and demonstrate their expertise with photos of their past work, and creative executions of their extreme talent. A professional film crew will assist salon teams who want to enter the competition, free of charge. Doors open at 4:00 p.m. and interested teams must sign up to reserve their slot by calling Battle of the Strands offices at 702-990-3368 no later than July 27.
Kim Vo will be available to meet and share his knowledge with interested salon teams, during an overview of the Battle of the Strands competition. This is the first time Kim Vo has ever celebrated his birthday exclusively with peers from the beauty industry, and he couldn't be more excited to connect its celebration to Battle of the Strands. He explains: "We have unbelievable creativity in our industry and Chicago is no exception. I want to get the word out to help salons with incredible talent reach the next level."
About Kim Vo
Kim Vō, master colorist to Hollywood's most elite, is a creative visionary and inspirational leader who is amongst the beauty industry's most recognized personalities. Hailed by Vogue as "the best blonder in the business," Vō is one of the most sought after color experts in the world. With celebrity clients ranging from Kate Hudson and Katherine Heigl to Britney Spears and Dakota Fanning, as well as hundreds of magazine articles and TV shows featuring his expertise and warm, charismatic personality—such as "Extreme Makeover" on ABC, "Daily 10" on E! Entertainment, red carpet reporting for TV Guide Channel, and his hit show "Shear Genius" on Bravo— Kim Vō has become the hair, beauty and style expert to a global audience of millions. Tapping into his expertise with blondes, Kim Vō was recently named Brand Ambassador for Schwarzkopf Professional's BLONDME, a new collection of premium blonde hair colour, care and styling care tending to the specific needs of blondes. The 2011 winner of Battle of the Strands, his accolades continue to grow within the industry along with his clientele in his salons in Las Vegas, Beverly Hills and Laguna Beach.
About Vegas Beauty Unbound
From October 20-22, 2012, Vegas Beauty Unbound will descend on Las Vegas with a three-day educational and networking event for the beauty and fashion industry at the Hard Rock Hotel Casino in Las Vegas. The centerpiece is Battle of the Strands: Xtreme Beauty, a head-to-head battle between the country's top and unknown salons featuring outrageous challenges to showcase creativity and teamwork. Additional activities include a spectacular runway show, a tradeshow of innovative industry products, a student competition, and "Beauti Gras", a Mardi Gras-style Halloween Party at Body English.
About Fromm International
Fromm International is a designer and manufacturer of world-class salon products for the professional beauty industry. Fromm has a long and respected reputation for high quality standards, fair and ethical business practices, integrated sales and marketing programs and outstanding customer service. For more than 100 years, Fromm has brought the most technologically and aesthetically advanced shears, sundries, salon and hair apparel to America's professional beauty industry. The company's major brands include Andre' Salon Apparel and Hair Apparel, Fromm Premium Shears, Perfect Results, Diane Essentials and Edge Ahead Shears. Visit http://www.frommbeauty.com.
About Bhumi Makeup Brushes
From ancient Sanskrit, one of the oldest, most sacred languages of our civilization, and the birthplace of ancient wisdom, comes Bhumi (earth), a revolutionary new line of make up brushes for professional artists, teens, and women on the go. Bhumi brushes magnify the natural ability of every makeup artist and consumer to manifest inner beauty with the simplest techniques, in a manner that promotes health and respects nature. Visit http://www.bhumimakeupbrushes.com
About Schwarzkopf Professional
For more than 114 years, Schwarzkopf Professional has been a leader in the salon business, with brands and technologies that make people's lives easier, better and more beautiful. Schwarzkopf Professional is part of the business unit of cosmetics/toiletries of Henkel Consumer Goods, and is worldwide one of the leading suppliers in the hairdressing business. Based on a professional partnership with the hairdresser, Schwarzkopf Professional focuses on providing innovative concepts and services, which match the needs of International salon businesses. Schwarzkopf Professional is present in over 80 countries. Well known International brands include BLONDME (blonde colour, care and styling), leading brand IGORA Royal (colour), ESSENSITY (colour), BC Hairtherapy (care), and OSiS (styling). There is one unique pulse which combines Schwarkopf Professional, their salons and consumers, that we TOGETHER HAVE A PASSION FOR HAIR. Schwarzkopf Professional's daily goal is to bring that passion for hair to life.
For More Information
For more information about the event, please contact Elena Long, Communications Director of Battle of the Strands, at 702/990-3368 or 702/612-0394, email elena(at)emailbestbeauty(dot)com or visit vegasbeautyunbound.com
To submit celebrity talent or register for media credentials, please contact Mari Escamilla at Marketing Maven Public Relations via phone or email: (310) 994-7380 or mari(at)marketingmavenpr(dot)com
##