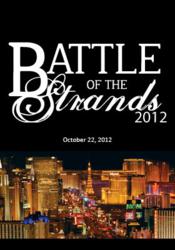 Their participation in Vegas Beauty Unbound will take the creativity and insight of our event to another level.
Las Vegas, NV (PRWEB) August 14, 2012
Vegas Beauty Unbound, the premier Las Vegas-based education and networking event for the international beauty industry is pleased to announce that Schwarzkopf Professional will serve as its exclusive hair color sponsor, including Battle of the Strands 2012: Xtreme Beauty, the highlight of the 3-day beauty event.
Schwarzkopf Professional will provide all hair color for the entire Battle of the Strands competition, featuring its full line of signature IGORA Royal products, and partner with master stylist/colorist, Kim Vō during the Mane, Style & Face Forum to offer a professional hair color training seminar. Schwarzkopf Professional's certified color specialists will consult and train directly with teams during the challenges and on the final day of competition, when the remaining five teams will battle for the title of Xtreme salon.
"Schwarzkopf Professional is the industry standard in hair color," stated Erin Utter, Director of Operations for Vegas Beauty Unbound. "Their participation in Vegas Beauty Unbound will take the creativity and insight of our event to another level."
About Schwarzkopf Professional
For more than 114 years, Schwarzkopf Professional has been a leader in the salon business, with brands and technologies that make people's lives easier, better and more beautiful. Schwarzkopf Professional is part of the business unit of cosmetics/toiletries of Henkel Consumer Goods, and is worldwide one of the leading suppliers in the hairdressing business. Based on a professional partnership with the hairdresser, Schwarzkopf Professional focuses on providing innovative concepts and services, which match the needs of International salon businesses. Schwarzkopf Professional is present in over 80 countries. Well known International brands include BLONDME (blonde colour, care and styling), leading brand IGORA Royal (colour), ESSENSITY (colour), BC Hairtherapy (care), and OSiS (styling). There is one unique pulse which combines Schwarzkopf Professional, their salons and consumers, that we TOGETHER HAVE A PASSION FOR HAIR. Schwarzkopf Professional's daily goal is to bring that passion for hair to life.
About Vegas Beauty Unbound
From October 20-22, 2012, Vegas Beauty Unbound will descend on Las Vegas to explore the transforming Beauty Industry. Beauty professionals and industry icons will benefit from strategic education and networking sessions, experience new tools, and witness and participate in explosive battles that challenge them in new ways.
The event's centerpiece is Battle of the Strands: Xtreme Beauty, a head-to-head beauty and style competition between the country's top and unknown salons, which culminates in an epic finale at The Joint, Hard Rock Hotel & Casino Las Vegas.
Vegas Beauty Unbound's other marquee events include the Mane, Style, and Face Forum, a social media strategy seminar featuring information from industry professionals as well as Google and YouTube, a spectacular runway show hosted by Kim Vō, a Tradeshow Exhibit, Student Competition, and a Beauti Gras Mardi Gras style Halloween Party at Body English.
Sponsors include the Las Vegas Convention and Visitor Authority (LVCVA), Lamborghini of Las Vegas, Audi Henderson, Bhumi Makeup Brushes, and Izunami Hair Tools of New York, M3K Beauty LLC, Televisa Publishing & Digital, LookTV and Schwarzkopf Professional.
For More Information
For more information about the event, please contact Elena Long, Communications Director of Battle of the Strands, at 702/990-3368 or 702/612-0394, email elena(at)emailbestbeauty(dot)com or visit vegasbeautyunbound.com
To submit celebrity talent or register for media credentials, please contact Mari Escamilla at Marketing Maven Public Relations via phone or email: (310) 994-7380 or mari(at)marketingmavenpr(dot)com
###