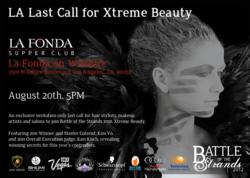 We expect our extended deadline will allow more talented teams to enter the competition.
Las Vegas, NV (PRWEB) August 13, 2012
Vegas Beauty Unbound, producers of the epic salon competition, Battle of the Strands 2012: Xtreme Beauty, is proud to announce that it has extended its entry deadline for the competition to August 20, when it will hold its final road show event for interested salon teams, the LA Last Chance, from 5:00 p.m.-8:00 p.m. at La Fonda Supper Club, at 2501 Wilshire Boulevard.
The LA Last Chance is an exclusive, invitation-only event for hair stylists, makeup artists, and salons interested to have their entry video filmed free of charge for Battle of the Strands. Interested salon teams will present their team's unique qualities, and demonstrate their expertise with photos of their past work, and creative executions of their extreme talent. Master colorist, Kim Vo and Overall Execution Judge, Kari Kisch will assist teams with their videos, strategy, and secrets to excel in the competition. The event coincides with the extended entry deadline for Battle of the Strands, and will be filmed by Project Runway's LookTV, as part of its ongoing chronicle of the competition. Doors open at 4:30 p.m. and interested salons must call 702/990-3368 to receive their exclusive invite and RSVP. Teams that cannot attend can email their entry videos directly info(at)vegasbeautyunbound(dot)com.
An LA landmark since 1968, La Fonda Supper Club combines exquisite Mexican cuisine, with a delightful ambiance, modern décor, and Mariachi music to create the perfect festive atmosphere for the LA Last Call. It is also acclaimed as a local hotspot and preferred destination for celebrities and high-profile events.
"This year's venue is consistent with the branding of "Xtreme Beauty", hosting several high profile events & personalities such as Eva Longoria, Jessica Alba & Will Farrell," noted Erin Utter, Director of Operations for Vegas Beauty Unbound. "We expect our extended deadline will allow more talented teams to enter the competition." The LA Last Chance will be sponsored by Bhumi Makeup Brushes, Televisa Publishing & Digital, Schwarzkopf Professional, Fromm International, and others to be announced.
About Vegas Beauty Unbound
From October 20-22, Vegas Beauty Unbound will descend on Las Vegas with a three-day education and networking event for the beauty and fashion industry. Battle of the Strands: Xtreme Beauty, is a winner-take-all contest between the country's elite and unknown salons featuring outrageous challenges to showcase creativity and teamwork. The Top 10 salons selected for the competition will be flown to Las Vegas, all-expenses paid, and will be provided with the tools and products needed for the preliminary challenges and final competition at The Joint, Hard Rock Hotel & Casino Las Vegas. Additional events include a spectacular runway show hosted by Kim Vo, a tradeshow of innovative industry products, a student competition, and Beauti Gras, a Mardi Gras style Halloween Party at Body English.
For More Information
For more information about the event, please contact Elena Long, Communications Director of Battle of the Strands, at 702/990-3368 or 702/612-0394, email elena(at)emailbestbeauty(dot)com or visit battleofthestrands.com
To submit celebrity talent or register for media credentials, please contact Mari Escamilla at Marketing Maven Public Relations via phone or email: (310) 994-7380 or mari(at)marketingmavenpr(dot)com
##