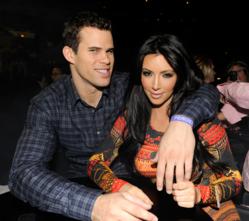 Houston, TX (PRWEB) June 08, 2011
Reality star Kim Kardashian sent shockwaves through the celebrity rumor mill last month when she announced that she was engaged to NBA star Kris Humphries after just six months of dating. But the soon-to-be wedding bell news wasn't the only whopper she stunned her fans with. Another was the massive 20.5 carat diamond bling gracing her ring finger. TMZ news estimates this rock of an engagement ring carries a $2 million price tag. To celebrate, Home and Bedroom, the online bedroom discount retailer, is running an Engagement Sale featuring discounts on all Bedroom Furniture until the end of July.
Following Humphries' surprise rose petal proposal, Kardashian told People magazine, "I didn't expect this at all. I was in such shock. I never thought it would happen at home, and I never thought now." Expected or not, the reality starlet will be milking the publicity for all its worth, with her basketball beau scheduled to appear in the upcoming season of "Keeping Up with the Kardashians," which just happens to debuted this upcoming Sunday.
Indeed, The Bleacher Report recently reported, "Word has it that the opening scene features Kim introducing NBA player Kris Humphries as her new boyfriend, but with their recent engagement, there promises to be plenty of entertaining engagement throughout the newest season."
But while the betrothed couple is flashing their multi-million-dollar engagement ring splurge and living it up in the celebrity spotlight, behind the scenes they're not throwing practical caution to the wind. Hollywood scooper TMZ has learned that "Kim Kardashian and her fiancé Kris Humphries are hedging their bets – they're hammering out a prenup before they tie the knot."
Once they settle into married life, that pragmatic side will likely come into play even more, and Humphries may have to keep his notorious soon-to-be wife's spending tendencies on a tight leash. But as Kim begins domestic wedded bliss with the sports superstar, she can maintain her seductive and high-class decorating style without giving up her engagement ring. By furnishing her new digs with high-quality name brand furniture from a discount bedroom furniture retailer, she can have her diamond bling and sleep in it too.
No Kardashian honeymoon, of course, would be complete without a plush mattress to consummate the marriage upon, and a Simmons Beautyrest World Class Mattress from Home and Bedroom provides a perfect foundation for Kim's notorious booty … at up to 59% off retail prices. The company also offers sleek and sophisticated metal headboards and Hillsdale Furniture to complete the honeymoon suite.
Kim Kardashian fans who want to keep up with the new home decorating marital preparations their favorite celebrity is sure to be considering can get the additional 5% Engagement Discount by typing the code "engagement" in the discount coupon box at the bottom of every check out page. To see the company's full line of Kardashian-worthy Beautyrest world class mattresses, metal beds and daybeds with trundles from Hillsdale Furniture, visit Home and Bedroom Furniture online at http://www.home-and-bedroom.com/
# # #