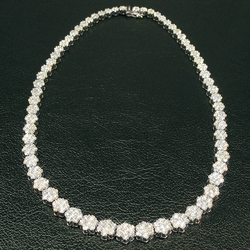 Las Vegas, NV (PRWEB) October 29, 2008
Kim Kardashian got the surprise of a lifetime at her LAX nightclub birthday bash on October 24, 2008. During her interview with Extra TV, Kim Kardashian was presented with a 34 Carat Diamond necklace from Director of Marketing for ItsHot.com, Christopher Hernandez, the wholesale priced eCommerce jewelry company. With an estimated retail value approaching six-figures, the necklace impressed everyone in the room. The one of a kind piece was created by the artisans at ItsHot.com who are the exclusive manufacturer for their signature brand, Luccello Jewelry.
ItsHot.com has a well established celebrity following. It's the who's, who of the entertainment industry. ItsHot.com Diamond watches and jewelry can be found on celebrities everywhere. You can see some of their most famous clients on their celebrity page. The list includes Sean Kingston, Flo-Rida, Aubrey O'Day, Nelly, Ja Rule, The Game, Snoop Dogg, Trina, Rick Ross, Akon and so many more, ItsHot.com understands the importance of getting the celebrity stamp of approval.
When it comes to price ItsHot.com can't be beat. Most of the jewelry items they sell online are manufactured by their wholesale diamond jewelry division, so they are able to offer factory direct prices to the public. We have genuine Diamond and gold jewelry and watches starting at just $99, like these Solid 10k Gold Diamond Stud Earrings featuring 0.18 carats of round cut diamonds. They also have one-of-a-kind-pieces that can't be found anywhere else in the world, like their 20.98 carat Radiant Cut diamond, a nearly flawless Diamond ring set in Platinum and 18K gold for over $400,000. ItsHot.com has an unbeatable price guarantee, so whatever your budget, you're getting the best price possible.
The ItsHot.com line was launched in New York City in 2005 as a brain child of diamond jewelry manufacturing and wholesale company Luccello, Inc., and grew quickly as an eCommerce Diamond jewelry company. ItsHot.com offers an extensive selection of men's and women's diamond rings, diamond earrings, diamond pendants, diamond bracelets, diamond bangles, diamond charms and diamond necklaces in white gold, yellow gold and rose gold, all listed at close to wholesale prices. For more information, call toll free in US: 866-423-6262 to be connected to a knowledgeable customer service agent or on the Web at ItsHot.com.
###