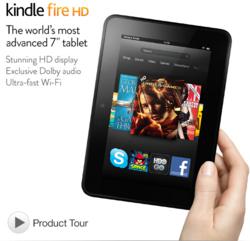 With a 1200x1800 high resolution display, the Kindle HD series is able to playback video without errors.
Houston, Texas (PRWEB) January 15, 2013
Tablets have remained a popular alternative to smartphones in the U.S. according to retail data. The Kindle Fire HD 7-Inch edition is profiled in a new report published online by iTrustNews.com. This report details how this digital device is one of the best values for 2013 in terms of pricing as well as features. Some retailers are still selling many of these tablets during the traditional first month of a new year slowdown. This report features pricing and other incentives still being offered by online companies.
The decision to create the 7-Inch version of the Kindle was made to compete with Apple's iPad Mini. This size is larger than a smartphone although still smaller than the 8.9 and other editions. While Apple was the first to the market with the reduced size, Amazon has quickly carved out a portion of the digital electronics sales according to the new report.
With a 1200x1800 high resolution display, the Kindle HD series is able to playback video without errors. The increase in the amount of hard drive space is one factor that is reported by many that is helping to create more value for consumers. The choices of 16 GB and 32 GB drives immediately provides more storage space than the average SDHC smartphone cards that are more common in 8 GB size. The iTrustNews.com report provides discount pricing information from retailers that continue to stock the 7-Inch tablet since this series was the most gifted in 2012.
No plans have been announced to upgrade the Kindle series in 2013 although more competition is expected to enter the marketplace. With faster processors and more features, the Kindle Fire series currently remains one of the values that consumers have selected last year as well as this year. This iTrustNews.com report is providing one resource online that men and women can use to find discount information and special offers that are not always announced online.
About iTrustNews
The iTrustNews company is a growing media company that was first established online in 2011. Over 24 months of publishing and syndicating unique news stories has helped this company to create more distribution options for its content online. Thousands of media outlets now syndicate all of the content that is written and published by this company. The iTrustNews company has earned its position as one of the most respected consumer reviews websites online. Through discount guides and lists, consumers now receive updated and last-minute information about online discounts and sales incentives.