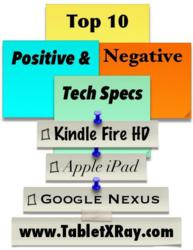 An unbiased review of the Kindle Fire HD should take in to consideration not only the positive features, but also the negative specs of the tablet
Chicago, IL (PRWEB) February 07, 2013
The new Kindle Fire HD is a much improved version of the original Amazon Kindle tablet; however, there is still room for improvement according to the recently published review, TOP 10 Negative and Positive Specs of the Kindle Fire HD. Features like the HD display, dual-antenna dual-band ultra-fast Wi Fi, low price-point, improved on-board storage up to 64 GB, and availability of mobile broadband in the form of 3G/4G LTE are attractive features; however, it is also important to look at its hardware and software deficiencies before making a purchasing decision.
Even though there are several dozen Kindle Fire specs to consider, not all of them are equally important. While some are very important, others are not so important. It is very important to identify the Most Critical Pros and Cons, and to base one's purchasing decision on those critical tech specs. For example, the high definition (HD) display can be considered as one of the most important specs of the Kindle Fire 2. In addition to its 1280 X 800 pixel resolution, its color accuracy and color gamut are also superior compared to the displays of many other leading 7" tablets in the market. Some of the major reasons people buy 7" tablets are to watch movies, play games, read ebooks and to browse the web. Therefore, superior picture quality is considered a critical feature. On the other hand, the HD feature of the front camera, may not be such a critical feature. People will use this camera for video chatting using apps like Skype; however, people are unlikely to carry around a 7" tablet as their main camera. Therefore, the high definition nature of the front camera may not be such a critical feature of the Amazon tablet. http://TabletXRay.com/Kindle-Fire-HD-Review-Top-10-Positive-and-Negative-Tech-Specs/ that addresses all these and more critical and non-critical features is a must read for anyone interested in buying a Kindle Fire HD tablet in 2013.
In addition to the Pros and Cons of the Kindle Fire 2, they recently published a Kindle Fire HD vs iPad Mini spec comparison. Again they emphasize that not all features are equal, and that only a handful of specs are critical. According to the Top 5 differences between the iPad Mini and Kindle Fire HD, the high definition display again comes in to play. In contrast to the Kindle Fire HD, the mini iPad does not have a high definition display screen. In addition, it has a 4:3 display unlike the 16:10 true HD screen of the Kindle tablet. Pixel density, total number of pixels, and even color gamut and color accuracy are inferior on the iPad mini, compared to the Kindle Fire HD, according to experts. The comprehensive Kindle Fire 2 vs iPad Mini comparison provided on http://TabletXRay.com/Kindle-Fire-HD-vs-iPad-Mini-Comparison/ reveals these and many other important differences between the two leading tablet computers.