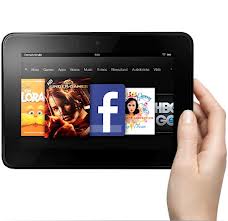 Kindle Fire HD 20 percent price drop is expected for Christmas.
Seattle, WA (PRWEB) December 08, 2012
Those Tech Guys have released a new price guide for Christmas for the most in demand tablets for 2012. This report reveals that a Kindle Fire HD 20 percent price drop is expected for Christmas. This technology company was one of the first to report the Cyber Monday price of $159 to alert buyers of this last minute deal. This review found this price to be among the lowest for the HD series online.
The size of the storage space mixed with the HD display and faster Wi-Fi are some of the reasons this tablet is so popular according to research. Amazon has not released sales figures like Apple or Samsung to compare the actual sales of these units.
The online report examined by ThoseTechGuys.com lead to expectation that a price drop is coming for the Kindle HD.
"It is natural for retailers to close out stock at the end of the fiscal year," said Jared North, researcher for Those Tech Guys. "We fully expect it to happen to the Kindle Fire this year," North added.
It is estimated by some analysts that Apple owns an 80 percent share of the tablets market worldwide. The sales of Apple iPad, iPhone 5 and the iPad Mini have exceeded most projections for 2012. With new competition heating up in 2013 for tablets, those that have waited to purchase a Kindle could get one of the best deals of the season.
While waiting to receive a low price is a gamble, some consumers have decided to purchase now while supplies still remain in stock. The final day to order for guaranteed Christmas delivery is December 20th in the U.S. This applies to standard shipments and not express packages that could cost extra.
The new Kindle Fire HD discount watch guide is scheduled to be updated daily as new information is acquired from online retailers. Those that have a desire to purchase online before the holiday could find that this guide offers helpful discounts for the best tablets for Christmas in 2012.
About Those Tech Guys
The year 2010 was the initial launch of Those Tech Guys and this part media and part technology company has grown annually since. By adding consumer product reviews in 2012, more people have been able to benefit from the low pricing and inventory information now shared with the public. Those Tech Guys provide a trusted source of information that is written by writers and editors without product or retailer bias. This 21st century company is planning a website relaunch in 2013 for consumers to get maximum benefit of visiting http://www.thosetechguys.com.