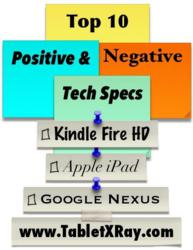 A balanced Kindle Fire review should address hardware specs as well as content ecosystems and software applications available from the Amazon digital store
Chicago, IL (PRWEB) January 04, 2013
The Kindle Fire tablet from Amazon is often considered the first tablet computer to pose any kind of threat to the tablet monopoly the iPad used to enjoy prior to 2011/2012. The new Kindle Fire HD has several noteworthy upgrades from the 1st generation Kindle Fire. However, it is still not perfect and has several shortcomings worth digging into, according to a recently published review.
According to the newly published Kindle Fire HD Review on http://TabletXRay.com/Kindle-Fire-HD-Review-Top-10-Positive-and-Negative-Tech-Specs/, many tablet computer reviews focus on hardware aspects and neglect to review content ecosystems and software applications that feed them. The unique feature about the above Kindle Fire HD Review is that it addresses many aspects of the Kindle tablet such as its hardware and software features, pros and cons, price comparison of movies, MP3s, and eBooks from different digital stores etc. etc. They recently published a list containing 10 Critical Features of the Kindle Fire HD. It is a must read for anybody interested in purchasing or learning more about the Amazon tablet.
In addition, they also recently published a comprehensive Kindle Fire HD vs iPad Mini comparison. This comparison is also unique in that it compares not only the hardware features but also the iTunes content ecosystem and Amazon Digital Store that respectively supply content to the Apple iPad and Kindle Fire. They have also provided detailed comparisons of features such as the cost of movie rentals, movie purchases and MP3 purchases. This is an important feature to consider as the savings/losses can add up in the long run. They recently added an elegant comparison of the cost of rentals and purchases between iTunes and Amazon instant video for the Top Videos on Demand (for the week of December 10th - 16th) that are published by http://finance.yahoo.com/news/rentrak-announces-top-ten-movies-204800971.html. This comparison clearly shows the more economical digital store for the tested movies.
Another point they emphasize is that neither of the tablets can be considered perfect. One user may find one of them more useful, while another may find that the other is more useful. There isn't a 'one tablet fits everybody's needs' kind of tablet. It's a choice each person has to make depending on their personal requirements. While the Amazon Kindle Fire and Apple iPad are suitable to many users, others may find the ASUS made Google Nexus 7 or Nook HD from Barnes and Noble more useful to their liking. This is where the above Kindle Fire HD Review and iPad Mini vs Kindle Fire comparison become useful for anybody that is trying to make a decision about the tablet computer that suits their needs best.