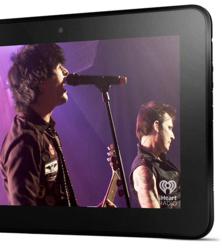 Kindle Fire is now Amazon's most gifted item.
Los Angeles, California (PRWEB) December 11, 2012
Kindle Fire is now Amazon's most gifted item as reported by HTMH Online. This product reviews and information based website has followed the sales of this tablet for the 2012 Christmas season. The published review includes information that details how this retailer has now discounted the HD series of this popular tablet as a special holiday incentive.
Internet browsing gained popularity through mobile devices in 2008. While these devices were handy for some users, the small size of the screen was one of the drawbacks to using the Internet browser inside.
Amazon took this information to heart when constructing the Fire series and changed the majority of dislikes that users had that tested and used the first edition of this device.
A new 7-inch screen is now included with the Kindle Fire that is capable of full color video playback as well as Internet browsing. The information included in the HTMH report details how the Wi-Fi speed has now increased by 40 percent.
The first version of the Kindle Classic was best used for downloading WhisperNet e-books according to research. The new series offers video, music and other downloads entirely online.
Last minute shoppers that are holding out to purchase a tablet have many choices. Samsung, Google and Microsoft all have versions of a tablet that can access the Internet. What the Fire has that others do not is an increased storage drive.
Since technology changes rapidly, the decision to include a larger storage space as well as provide the option of an upgrade was one that HTMH Online found valuable.
The special incentive pricing that Amazon has announced for the Kindle series for the Christmas season will be added to and updated before the year is through in the newly published report. This report will remain published online by HTMH to help consumers that are still deciding to make a purchase for the holiday shopping season.
About HTMH Online
The HTMH Online company started in 2007 and has helped many consumers find the right mixture of product and technology reviews. Online shoppers have a mixture of information to use and the researchers, writers and editors that contribute to this company help ensure accuracy of the reviews provided. The HTMH Online website is updated routinely with reports, sales lists and other data that online shoppers find useful to make better decisions. The 2013 year is expected to be one of growth for this company as new innovations are launched.