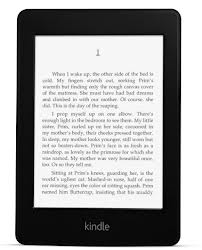 The price has dropped to $119 for the standard version.
San Francisco, California (PRWEB) December 10, 2012
Kindle Paperwhite e-reader currently has a list price of $139. ThoseTechGuys.com found after a recent review that the price has dropped to $119 for the standard version. A new pricing guide has been published online that detailed several retailers and this incentive by Amazon is listed currently as the best deal according to the report.
"This tablet does not have HD, a color screen or the 8.9 size of the Fire HD," said Brad Renner, researcher for ThoseTechGuys.com. "Despite the lack of one or two features, this device has held its own as a low cost competitor to other Kindle versions," Renner added.
The launch of the Kindle HD series in September was one of Amazon's largest to date. The stock levels at many stores were depleted before the start of the Black Friday weekend. Not all retailers were able to receive a stock replenishment according to research.
The last minute Christmas shoppers that are searching for lower priced version of a tablet could benefit from owning the Kindle Paperwhite. Some of the incentives that retailers provide before the close of the year can benefit the shoppers that hold out until the very last moment according to the review guide published online.
The Paperwhite is able to hold thousands of books and complete a download in under one minute according to the Amazon user's guide. This tablet did receive a 62 percent increase in illumination compared to earlier versions of the non-color display.
The new 15 percent discount is in addition to an offer for no cost shipping through the Christmas season reported in the ThoseTechGuys.com review. This review is scheduled to be updated through the end of the year as new price information and last minute changes are announced.
About Those Tech Guys
As a review based company for electronics, Those Tech Guys started in 2010 and gave input on some of the top gadgets that were released at the start of the new decade. In just two short years, this company has expanded its electronics division by including consumer product reviews of popular goods and services online. This new information has been tested through the holiday season and consumers have responded to the deals guides, articles and lists that have been published. A new website design is in development and a new launch is expected in 2013 at http://www.thosetechguys.com.