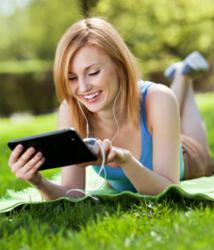 Everyone in the internet marketing and online publishing world knows that Kindle is what's hot right now...
Los Angeles, CA (PRWEB) October 02, 2012
"Brian Johnson's Kindle Ritual is being released today at twelve noon EST and the internet is buzzing with excitement," reports WealthSpringMarketing.com's Tiffany Hendricks. "Everyone in the internet marketing and online publishing world knows that Kindle is what's hot right now. Kindle Ritual is providing those interested in earning an online income with a proven method for getting in on this new 'online gold rush'."
As ranking a website becomes more difficult due to recent changes in the search engines' algorithms many marketers who had traditionally profited through AdSense and CPA offers are now turning to Kindle self publishing as a means to generate revenue online.
"Many people are now referring to Amazon as 'the world's largest buyer search engine'." says Hendricks. "And those who are getting in on Kindle publishing now are having a field day."
However, some people have expressed reluctance to get started with Kindle publishing because they don't think of themselves as authors. Others are intimidated by the publishing process. Kindle Ritual intends to to solve these problems by providing what Johnson calls: "An all in one Kindle publishing and promotion software solution."
"Kindle Ritual is going to be a huge game changer for a lot of people," says Hendricks. "Sure, there are other Kindle publishing guides on the market, but Kindle Ritual is truly in a class by itself. Brian Johnson is giving his customers the exact marketing strategies and tactics he uses to publish best sellers on Kindle, quickly and easily."
While some may remain skeptical as to whether they could actually have their own best selling Kindle ebook, Hendricks offers these words of encouragement:
"Kindle Ritual takes all the guess work out and allows anybody to publish on Kindle," says Hendricks. "The software handles the formatting, cover creation and comes with a bunch of cool templates. And then Johnson's video trainings cover everything there is to know about kindle publishing and promotion using Facebook fan pages, social media sites, SEO traffic and more."
Those wishing to purchase Kindle Ritual can get the software and training at a special price during the product launch. Click here for access.
A review of Kindle Ritual is available on Hendricks' website: http://wealthspringmarketing.com/kindle-ritual-review/