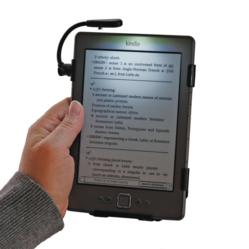 (PRWEB) January 03, 2013
Grantwood Technology introduces the SimpleLight for Kindle, an elegantly designed accessory that allows any avid reader to enjoy their Kindle in low-light environments, without the need for additional batteries. The SimpleLight draws power from the Kindle's internal battery, yet has a minimal impact on the Kindle's battery life. It even turns off automatically whenever the Kindle enters sleep mode. Its flexible arm allows for multiple lighting angles, and its four (4) LEDs provide ample coverage of the Kindle's screen.
Competing designs often take a clip-on approach, requiring a separate power source, and adding a noticeable amount of bulk. By contrast, the SimpleLight features a compact and lightweight design. Slide the Kindle into the SimpleLight's form-fitting frame, and then position the flexible arm in the desired location.
"We wanted the SimpleLight to be a natural extension of the Kindle," says Michael Banks, co-founder of Grantwood Technology, "Tapping into the Kindle's internal battery allowed us to design a light with a slim profile. Not worrying about keeping extra batteries on hand allows for a more enjoyable reading experience."
SimpleLight for Kindle activates four LED bulbs when lifted from its docked position. Its flexible design allows readers to angle the arm for optimal lighting in any situation. After ten minutes of inactivity, when the Kindle enters sleep mode, the SimpleLight will shut down to conserve battery power, making it a smart and simple solution for nighttime reading.
The SimpleLight is only compatible with the entry-level Kindle, the one with the five (5) buttons below the screen, and the Next/Previous Page buttons on the left and right edges. This product and other Kindle accessories are available on both the company website and through Amazon. For more information and upcoming product releases, visit Grantwood Technology, follow them on Twitter, or like them on Facebook.
About Grantwood Technology:
Grantwood Technology, based in Middleburg Heights, OH, produces quality mobile accessories for those in need of access and protection of mobile devices on the go. Since their inception in 2006, they have continued to grow and offer clients an extensive range of products, including Apple and Samsung, as well as Nook and Kindle accessories. They pride themselves on their high level of customer service.