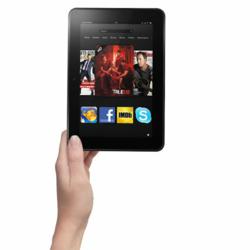 Detroit, MI (PRWEB) September 08, 2012
SportsFanPlayground.com is currently offering markdowns on various tablets and video games, including the older version of the Kindle Fire, Madden '13, and Xbox Live Subscriptions - both 3 and 12-month versions.
The store has older, used versions of the Kindle Fire tablet available for $129.00, down from the previous price of $199.00. This version of the Kindle features the Amazon Appstore, free cloud storage for Amazon content, and the ability to stream over 10,000 movies and TV shows. SportsFanPlayground.com also has the new versions of the Kindle - known as the Kindle Fire HD - available for preorder.
The Sports Fan Playground also has deals on the popular NFL video game, Madden NFL 13. For the Playstation Vita, the game is available for $29.90, and on the Playstation 3 and Xbox 360 consoles, the game is available for $52.99, while supplies last.
For those with the Xbox 360, SportsFanPlayground.om has the 12-month Xbox Live membership cards for $42.47 and the 3-month cards are $15.35. Both cards allow for users to chat online with other gamers and have access to media items such as Netflix, Hulu, HBOGo, YouTube, Facebook, and more.
For more information, visit SportsFanPlayground.com.
About the Sports Fan Playground -
SportsFanPlayground.com is a leading online e-commerce provider of sporting goods and fan apparel from the NFL, NHL, MLB, NBA, NCAA, UFC, WWE and other top leagues from around the world. The store also has a variety of electronics which range from tablets, PCs and cameras to video games, DVDs, Blu-Ray Discs, appliances, lawn and garden products and more.
The store also carries the top brands in electronics and apparel including, Nike, Adidas, Apple, Sony, Samsung, Microsoft, EA Sports, and many more. The company recently began its initial expansion into clothing and jewelry and will continue to expand over the next several months.