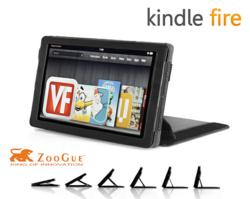 This case is the most convenient and functional case on the market.
Laguna Hills, CA (PRWEB) November 03, 2011
Having the most versatile and adjustable tablet cases on the market, ZooGue broadens their reputation with their latest case release. Offering to give away free Kindle Fire tablets is just an added bonus. Customers can enter the contest through Facebook or Twitter. By simply "Liking" ZooGue on Facebook, or tweeting "11 Kindle Fire Giveaway from @ZooGue RT to enter & enter twice by liking @ZooGue on FB http://tinyurl.com/3ksa2bl", they will be entered into the contest. ZooGue will give away one free Kindle Fire daily starting December 1, 2011 thru December 11, 2011.
With the Kindle being the world's greatest selling E-reader, the addition of the Kindle Fire brings much anticipation. The new lightweight and affordable tablet will require nothing but the best protection. The Kindle Fire Leather Case Genius includes all of the amenities that ZooGue's other tablet cases offer. From the fully adjustable kickstand, to the secure hand strap which doubles as an adjustable headrest mount, the case offers a variety of convenient options.
Priced appropriately at $39.99, the handmade genuine leather case will be available in black and pink. The Kindle Fire Case Genius will be available for pre-order at http://www.ZooGue.com, and is expected to ship by December 16, 2011, just in time for the holidays. Tim Angel, owner of ZooGue states, "This case is the most convenient and functional case on the market". They offer a full money back guarantee.
About the Inventor
Tim Angel is a 26 year old Entrepreneur/Inventor that started ZooGue in March 2010. With his great ability to invent products that are convenient and solve common problems, ZooGue has generated over a million dollars in sales. He is driven to succeed and doesn't settle for anything less. Tim's drive and determination are what make it possible for ZooGue to bring such innovative products to the market.
###