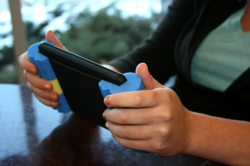 Reading and playing games on my Kindle is amazing now. Very comfortable.
Minneapolis, MN (PRWEB) January 30, 2012
The Kindle Fire is thin in profile, MI-handles makes them much easier to hold. The Kindle Fire also require you to hold them by their edges making it easy to mistakenly touch the screen. These features can make holding the Kindle Fire while reading, watching a movie or even playing games uncomfortable. The MI-handle for Kindle Fire does not block the screen and can help prevent inadvertent page turning that may result from the small bezel size. While being small in size and profile the Kindle Fire is fairly heavy. The MI-handle makes it easy to use with one hand or two for an extended amount of time.
The ergonomic shape of the MI-handle gives tablet computers a larger surface to grasp. This makes them easier to hold even for extended periods. Customers who use them say, "The MI-handle for the Kindle Fire makes my reading experience even more enjoyable. Thank you." "I bought this for myself, but my son took for his own use. Purchasing two more, as my daughter now wants her own as well." "This is great for little hands."
MI-Handles are made from low density foam giving them a soft but firm feel. All materials that make up the handles are non-abrasive so they don't scratch or scuff. MI-handles are available in different colors, both solid and mixed.
MI-handles make using a Kindle Fire much more enjoyable. They offer greater stability, comfort and ease of use. Anyone using this tablet will benefit greatly from using this product. Whether you are using the MI-handle for extended reading, movie viewing, gaming, apps, magazine or comic viewing, you are sure to have a comfortable experience.
###