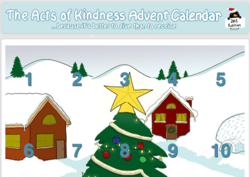 Each day until Christmas, we open a new door to the advent calendar and send subscribers an email instructing them to perform a simple act of kindness such as 'phone a friend', 'thank the mailman', or 'be a secret santa'
VANCOUVER, BC (PRWEB) November 29, 2012
For the second year in a row, a small internet-based, life coaching company is creating a big impact during the holiday season by making it fun and easy for thousands of people to be more kind, one small act at a time.
The idea for the Acts of Kindness Advent Calendar was hatched just hours before the first day of December last year. Noomii.com staff were so inspired to be part of the kindness movement that they volunteered to work through the night to make it a reality for the Holiday season.
"With so little time to create the advent calendar," says Kurt Shuster, Noomii.com CEO, "we had to keep it simple and that's what makes it effective. Each day until Christmas, we open a new door to the advent calendar and send subscribers an email instructing them to perform a simple act of kindness such as 'phone a friend', 'thank the mailman', or 'be a secret santa'".
Participants love it.
Within hours, the concept took off garnering thousands of social shares on Facebook, Twitter, Google +, and Stumble Upon. More importantly, the momentum kept going with excited participants sharing the meaningful experiences they had as a result of the calendar.
After taping a card labeled "for the postman" inside her letterbox, Amanda shared her joy of seeing the postman receive his gift. "Although there was no mail for us today, [the postman] stopped to collect his mail. It was fun to watch."
Richard loved the idea of being a secret santa. He anonymously gave a coffee card to the "guy who runs the copy machine on our floor" and adds, "I feel better already."
"I made a call to a long ago friend." comments participant Gloria. "She started to cry. It was her first Christmas without her beloved husband. I did not know that he had passed when I called. She kept saying over and over again that this had made her Christmas."
A small act of kindness can indeed have a big impact.
To participate in spreading more kindness during the holiday season, subscribe to the [http://www.noomii.com/advent-calendar-2012/ __title__ The Acts of Kindness Advent Calendar].
FOR MORE INFORMATION CONTACT
Ayla Wallbank
Noomii.com
Toll Free: 1-800-278-1057
support(at)noomii(dot)com
About Noomii.com
Founded in 2007, Noomii is a free online service that helps people find their ideal life coach, career coach, or business coach. Noomii's large and comprehensive directory of professional coaches includes thousands of independent coaches across the United States, Canada, and over 50 more countries. Noomii's personalized matching system matches clients with their ideal coach based on their unique goals, personality, and background.