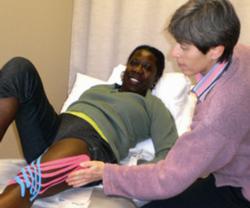 Kinesio Taping facilitates the body's natural healing process.
Astoria, NY (PRWEB) October 12, 2012
Kinesio Taping is a widely used method by athletes and patients that facilitates the body's natural healing process while allowing support and stability to muscles and joints without restricting the body's range of motion. The method was originally developed in the mid-1970s by Dr. Kenzo Kase a well-known Japanese chiropractor.
Hands-On Seminars, a New York based continuing education organization for physical and occupational therapists, announced its collaboration with the Kinesio Taping Association International (KTAI) and Certified Kinesio Taping Instructor, Andrea Wolkenberg, PT, MA, CKTI, to offer CKTP certification to Hands-On Seminars students.
In a statement released yesterday, Dr. Dimitrios Kostopoulos co-founder of Hands-On Seminars, noted that "Kinesio Taping is extremely helpful because it can provide extended soft tissue manipulation to prolong the benefits of manual therapy administered within the clinical setting".
"We are delighted to welcome Andrea Wolkenberg as faculty of Hands-On Seminars," proclaimed Dr. Konstantine Rizopoulos, co-founder of the seminar organization.
Andrea Wolkenberg who practices Physical Therapy for over 32 years recently wrote an article published by the International Kinesio Taping Association mentioning that: "While many elite athletes use Kinesio Tape for athletic injuries to excellent benefit, 85% of the people who are taped are average citizens with a wide variety of diagnoses".
Kinesio Taping has gained momentum after its extensive use in the Olympics, US Open and other major sports events and it is used to successfully treat a variety of orthopedic, neuromuscular, neurological and medical conditions.
Hands-On Seminars will offer Kinesio Taping certification courses throughout the country.