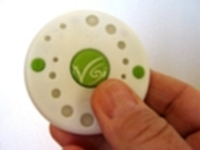 Studies show that over the last decade there has been a huge shift in consumer attitudes towards complementary medicine and health practices
Watsonville, CA (PRWEB) October 10, 2007
Today, VitaScans Inc. announced the immediate availability of the new TouchStone consumer-based 'electronic muscle tester' for consumers and complementary health professionals alike. The TouchStone is a hand-held battery operated, cordless unit, small enough to be carried in a pocket or purse, and the heart of the unit is a custom Sensitronics pressure sensor controlled by proprietary software.
VitaScans has spent the last three years developing the technology behind the TouchStone for those consumers who wish to take a more active part in their health evaluation in conjunction with seeing their acupuncturist, allergist, chiropractor, dietitian, homeopath, naturopath or psychologist. This new, light-weight plastic TouchStone replaces the earlier aluminum unit that was first introduced in June 2006 on the Los-Angeles-based radio 'Aware Show' hosted by Lisa Garr.
VitaScans is inviting distributors and resellers to contact resellerservices@vitascans.com to become part of the TouchStone family. "Studies show that over the last decade there has been a huge shift in consumer attitudes towards complementary medicine and health practices," stated Mackeonis, the TouchStone's developer, continuing, "so, now we need the assistance of resellers to reach the millions of consumers worldwide who could benefit from experiencing the TouchStone."
The TouchStone has already traveled across the globe to the United Kingdom, Scandinavia, the EU, the Middle East, the Far East and Oceania by people purchasing directly from VitaScans.com, and VitaScans now welcomes approaches from both domestic and international importers and distributors from around the world to facilitate availability to these overseas customers. A heavily discounted unit is available for resellers and distributors for evaluation and the unit has a 30-day return policy.
As an introductory offer, the TouchStone will retail for $149.95 and to introduce the TouchStone as a mass-market product, VitaScans is offering healthy margins to dealers and distributors and will 'drop ship' to the smaller resellers' clients at no extra charge.
The TouchStone is based on the principles of Dr. George Goodheart, who established Applied Kinesiology as a method of health diagnosis and treatment in 1964, and his method is used today by hundreds of thousands of alternative health care professionals across the world.
###