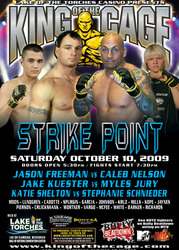 We have a long standing relationship and have done a lot of great fights at Lake of the Torches Casino. Some of the biggest stars in mixed martial arts today have fought here and no doubt the
Lac du Flambeau, Wis. (Vocus) September 1, 2009
Lake of the Torches Resort Casino will again play host to mixed martial arts global powerhouse King of the Cage on Saturday, October 10, 2009. Tickets are $35, $45 and $75. In addition, all guests who by tickets to the King of the Cage: Strike Point show will have an added bonus to see the Ed Hardy Fashion Experience and Model Search before the MMA action begins. Tickets are on sale now.
Over 25 professional and amateur cage fighters will roll into the beautiful serenity of Lac du Flambeau bringing an arsenal of kicks, punches, knees, submissions and knock outs. There will be no less than 12 hard hitting, no holds barred, mixed martial arts cage fights in one night.
Fighting in one of the main events is Wisconsin's number two ranked light heavyweight Caleb "The Bull" Nelson out of Hayward, Wisconsin. He will be stepping into the cage against hard hitting Jason "Freebird" Freeman out of Ohio. Both fighters come to the cage with a history of serving up knockouts. The winner will surely be ranked as one of the top ten King of the Cage light heavyweights.
Another much anticipated main event long in the making features welterweight, Myles "The Fury" Jury. The Fury will put his undefeated record on the line in a battle against Duke Roufus trained and Wisconsin Combat Sport.com ranked fighter Jake "The Enforcer" Kuester.
The Monster will also be returning to the Lake of the Torches before Halloween! Detroit's Eric "The Monster" Moon will be showcasing his wrestling and striking skills against Jake Spurgin also out of Roufus Sports. Additionally, local fan favorite and Wisconsin National Guard solder Stephanie Schneider heads back to work in the cage against Hayward's own Katie Shelton.
Matt Flynn, Promoter and Matchmaker of King of the Cage commented: "We have a long standing relationship and have done a lot of great fights at Lake of the Torches Casino. Some of the biggest stars in mixed martial arts today have fought here and no doubt the "Strike Point" fight card could potentially uncover new talent to put on King of the Cage's world stage."
In addition Michael J. Broderick, Director of Marketing for Lake of the Torches remarked: "Once again we are excited to hold this event in our casino for what will no doubt be a phenomenal night of mixed martial arts knock-outs and submissions. We are really excited to once again provide the platform for some of Wisconsin's best fighters not just in our main events but on the undercards as well. I am especially excited to see world famous professional MMA trainer and former world champion kick boxer Duke Roufus bring his fighters to compete at this upcoming show. They are an exceptional representation of the incredible talent pool we have here in this state."
It also needs to be noted that most of the top camps in Wisconsin will be bringing their fight teams. The following camps have committed fighters: Roufus Sports MMA, Metz Combat Club, Sixel's Fight Club, Rising Son, Garcie Barra Kenosha, and Ernie Paulson. They will be bringing only their best fighters.
Included on card with the main events are some of the best area fighters to watch. They are: Adam Kope, Tom Ahlborn, Joe Kruz, Ricky Stettner, Daron Cruickshank, Ryan White, Shane Cadotte, Mike Meyers, Joel Wortner, Jason Mills, Pete Vargo, Marcus McFee, John Barker, Adrienne Pierson, Dustin Johnson, Kenny Richards, Justin Jaynes, Alex Lundgren, Josh Kertz, and Jared Johnson. King of the Cage is proud to give every one of these warriors an opportunity to become a superstar inside the KOTC steel.
In addition to the action in the cage, things will be heating up outside the steel before the fights as twelve of the hottest, sexiest, young women and men in the country will have their chance at stardom during the Ed Hardy Model Search and Fashion Experience. Representatives from Ed Hardy Clothing will be flying out from Los Angeles to oversee the pre-fight show and they will be looking for their next big star. Judges for the show will include representatives of Ed Hardy as well as surprise celebrities of T.V., sports, business, and the big screen. Free Ed Hardy apparel will be given away to lucky members of the audience. The model search is included in the price of the show ticket.
Tickets are available at Player Services at Lake of the Torches Casino by calling 1-800-25 TORCH (86724). You must be 18 or older to attend the show and 21 or older to gamble in the resort-casino. Tickets are also available online at http://www.kingofthecage.com or http://www.lakeofthetorches.com.
Situated on the shores of Pokegama Lake and nestled in Wisconsin's Northwoods, the Lake of the Torches Resort Casino has a feel of a classic Northern retreat and reflects its Ojibwe culture and heritage. The casino has over 800 slot machines (including a non-smoking area), 12 blackjack tables and two Poker tables, a high-stakes Bingo Hall seating up to 500 persons, the 24-hour Game Time Grill and the Eagle's Nest Restaurant. The hotel has 101 well–appointed rooms, the Dancing Waters Lounge and the Woodland Oasis fitness center and pool. The 8,500 square-foot Convention Center with the Hall of Nations offers an outstanding venue for entertainment, receptions, trade shows, meetings, presentations and seminars.
For more information on this show and upcoming events at Lake of the Torches please see http://www.lakeofthetorches.com.
###