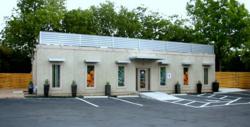 "With almost the entire state of Texas in a drought, we wanted to create a design collection that features plants indigenous to the area that are drought and heat resistant."
Austin, TX (PRWEB) September 14, 2011
With Texas having one of the hottest and driest summers on record, local Austin florist, King Florist, was inspired to create a new design collection that is not only chic, but Eco-conscious as well.
The initial inspiration came from the landscape design of their new location at 1806 W. Koenig Lane (78756) that they moved to this summer. When surveying the daytime sun exposure, the design team realized that the best landscaping option would be to utilize local plants like cactus and succulents. Benoit Ballon, the owner of King Florist said, "Our new location gets 100% of the afternoon sun and heat but we still wanted to create the exterior of our new location to be friendly to the environment and inviting to our clients." The team put together decorative pots that hold cactus and succulents, added accents of natural stone and printed large-scale floral photos for the front windows to add color. Shortly after moving to their new location, the King Florist team decided to create an entire design collection that would focus on the Eco-friendly local plants that were used in their landscape design. Ballon said; "With almost the entire state of Texas in a drought, we wanted to create a design collection that features plants indigenous to the area that are drought and heat resistant."
The new collection seems to be getting a positive response from established King Florist clients and new Austin shoppers alike. Ballon states; "Austinites like to send gifts that are unique and interesting. We are always developing and evolving our collections to keep our clients on their toes." Kirk Lewis, a long time customer of King Florist and one of Austin Business Journal's Top Rated Real Estate Agents said; "When my clients close on their new homes, I like to send a 'Welcome Home' gift. The new collection provides the perfect balance; it's different from anything I've seen offered in Austin and I really like the choices are Eco-friendly. Austin is unlike any other place I know, and the gifts that the King Florist Team creates always represent me well and reflect Austin's unique culture."
The new collection, which can be found online at http://www.KingFlorist.com features textural gardens with succulent and cacti varieties including aloe, jade, and bromeliads. A King Florist designer will personally create each and every garden to be a custom gift in a sleek bamboo, concrete, or other custom pot of your choice with natural accents including river rocks, moss, natural reeds and bark. A perfect gift for Birthdays, Thank you, or something just for your home or office! They can accommodate same day delivery to the greater Austin Area or you can pick up your garden at their new location: 1806 W. Koenig Lane, 78756.
# # #