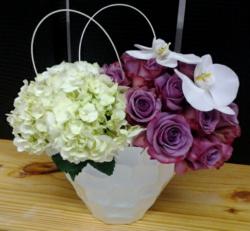 "Each person sending and receiving flowers will know that it came from King Florist from the quality and care that goes into each design."
Austin, TX (PRWEB) February 01, 2012
Local Austin Florist, King Florist is bringing a unique approach to Valentine's Day. While some florists sell the same designs that they feature all year, the King Florist design team has created a custom floral collection titled "Be Mine, 2012" that is inspired by this holiday of love.
"Be Mine, 2012" was created to be cohesive, balanced and beautiful. The emphasis lies within the product that is being flown direct from Holland, Chile, Ecuador and Hawaii. Benoit Ballon, Owner and Creative Director of King Florist said; "Valentine's Day is a holiday we focus on all year. We have been working hard to select farms with the most beautiful product since May of last year. Our goal is to bring flowers to Austinites that are beautiful, unique and are of amazing quality."
This years collection features beautiful Orchids, Fragrant Hyacinth, Vandyke Tulips, premium Rose varieties and accents of "Heart Foliage" that is all too perfect for Valentine's Day. Ballon said; "Valentine's Day doesn't have to be all about red roses, the first flowers of Spring like hyacinth, tulips and hydrangea are just as, if not more, romantic and beautiful."
To finish off the collection, each design is hand created in one of King Florist's premium vases and are accented with a unique lily grass necklace and pendant, the elements that create the "Be Mine, 2012" signature. Lynsey Reece, Manager at King Florist said; "We love that the collection has a cohesive feel. Each person sending and receiving flowers will know that it came from King Florist. You can relate it to shopping at Tiffany's; whether you're buying simple diamond earrings or a full diamond necklace, the experience, quality and care is always the same."
King Florist will be delivering Flowers to Valentine recipients in the Greater Austin area. This includes Round Rock, Cedar Park, Pflugerville and Lakeway. Delivery space is limited and they fill up fast, so schedule your delivery early to reserve your spot. You can view the "Be Mine, 2012" collection online at http://www.KingFlorist.com or give them a call at 512.453.6633 and a team member will guide you through the collection to help you find the perfect gift. You can also visit them at their new home located in Central Austin at 1806 W. Koenig Lane.
###