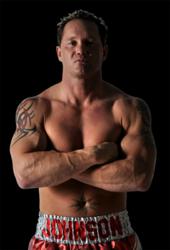 "Face it, it's hard when you compete - hard on families, hard on your body, hard on your finances - every athlete needs a 'Plan B' and I'm proud to say, 'Sponsored by Solavei™'" said Johnson
Shreveport, LA (PRWEB) January 04, 2013
James "King James" Johnson is going for World Champion and will not let anything get in his way - not even the economy. Boxing Tour takes on unlikely sponsor as Social Commerce Industry is born on boxer's "come back tour."
The economy has been all in the news the past few weeks with Congress and the President talking about the 'Fiscal Cliff'. One sector impacted by the economy is professional athletes, especially professional athletes who pay their own bills between gigs. Rodeo cowboys, free agents in every sport and professional boxers.
Meet 'King James' Johnson from Shreveport Louisiana. Lifetime Record 25 Wins 9 Losses 15 KO (Knockouts)
Johnson retired four and a half years ago after successfully defending his Light Heavyweight title - he retired due to an injury. After near 5 years off and his body "feeling awesome" he decided to complete for his dream. His dream of "being one of boxing's best." He's determined to meet the demands of his sport and that includes staying on the road and supporting his family while he fights. Johnson launched KingofTheRing.biz to not only fund his corner but to help the economy, his sport and aging athletes who need a 'Plan B.' "Face it, it's hard when you compete - hard on families, hard on your body, hard on your finances - every athlete needs a 'Plan B' and I'm proud to say, 'Sponsored by Solavei™'" said Johnson. Not only that, said Gibson, fans of all ages can connect with Johnson on Facebook and Twitter and be a part of the 'Virtual Boxing Tour' all year long Online from James' Website.
"I'm 3-0 in my return to the ring. I will fight for the NABU Cruiserweight Championship Jan 19th in Memphis. I was an Olympic alternate for the 1996 USA team in Atlanta. I did not get a chance to compete though." Other fights this year are scheduled by James and his Manager, Jimmy Gibson, "We'll be fighting in Oklahoma, Minnesota and even Mexico later this year."
"King James' Johnson has taken an 'out-of-the-box' approach to funding their 'come back tour' choosing to partner with a new Social Commerce Company and offer fans athletes, even competitors the same opportunity. Johnson was heard saying, "Rocky supported himself by working in the meat packing plant between prize fights, we think Social Commerce is a better bet and we can help so many more people this way."
Solavei™ is a social networking and commerce platform that enables users to connect, share and capitalize on the power of social networks. Solavei's mission is to make commerce less expensive by empowering individuals to earn income on the products and services they enjoy and use every day. Solavei™ pays its members to refer 4G Unlimited Voice, Text, and Data for $49 per month.
Solavei™ launched in September of 2012 and has many pro athletes and celebrities that are singing their praises.
Retired and current athletes and celebrities include: Emmit Smith, Bubba Watson, Shaun Kemp, Dante Wesley, Greg Fassitt, Detlef Shrimp, Michael Dotterer, Mark Bradley, Cee Lo Green, Stephen Baldwin and others that are choosing Solavei as their Plan B.
"It just really makes sense said Johsnon, when you think of aging athletes, in whatever sport, it's a way they can have a sponsor 'underwrite' them, while their young, without having to jump through all the corporate hoops that typically come with an endorsement deal and get paid for life. It's like a retirement package for athletes and it's funded by fans and lovers of their sport. Asked if he'd offer Solavei™ to a competitor Johnson quickly says, "of course!"
James Johnson is an Independent Solavei™ Social Member, not an employee or agent of Solavei™
'King James' asks young and old alike: "So WHAT IS YOUR DREAM!? Isn't it time for YOU to get back in the ring?" Recent YouTube clip of 'King James' winning the title updated 2-16-13.
Solavei™ DREAM TEAM is proud to sponsor this Press Release and honored to be working with Mr. James Gibson and Mr. 'King James' Johnson to help: "inspire greatness in others and tell them 'it's safe to dream again."