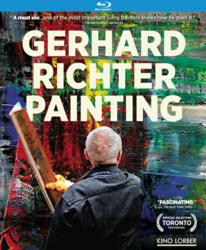 New York, NY (PRWEB) August 30, 2012
Kino Lorber is proud to announce the Blu-ray and DVD release of Gerhard Richter Painting, a documentary by Corinna Belz that offers unprecedented insight into the life and work of one of the greatest artists of our time.
This acclaimed documentary, which Kino Lorber released theatrically earlier this year, comes to Blu-ray and DVD on September 25th, with a SRP of $34.95 for the Blu-ray, and $29.95 for the DVD. It is currently available for prebook.
The film will also be available digitally on iTunes, Amazon Instant Video, and Vudu.com.
The Blu-ray and DVD editions come packed with special features, including "Gerhard Richter and Art Historian Benjamin HD Buchloh in Conversation" (23 min.); "Fragments of Conversation: Curator Hans-Ulrich Obrist Meets Gerhard Richter" (10 min.); "Gerhard Richter Prepares for Munich Exhibition 'Abstract Paintings'" (9 min.); an interview with filmmaker Corinna Belz (BD-ROM access only); and trailers.
Legendary German painter Gerhard Richter granted filmmaker Corinna Belz access to his studio in the spring and summer of 2009, where he was working on a series of large abstract paintings. In quiet, highly concentrated images, the documentary provides a fly-on-the-wall perspective of the very personal, tension-filled process of artistic creation.
Richter is his own worst critic, destroying multiple canvases before his remarkable creative spirit takes hold, and the astonishing final compositions emerge. "Painting is another form of thinking," Richter once said, and Gerhard Richter Painting takes that premise seriously, exposing for the first time how he translates his thoughts onto a blank canvas. Beautifully shot and endlessly revealing, it "artfully and convincingly immerses us into the world of one of the greatest [painters], painting." (Village Voice)
Special Features

Gerhard Richter and Art Historian Benjamin HD Buchloh in Conversation (23 min.)
Fragments of a Conversation: Curator Hans-Ulrich Obrist Meets Gerhard Richter (10 min.)
Gerhard Richter Prepares for the Munich Exhibition "Abstract Paintings" (9 min.)
An Interview with Director Corinna Belz (BD-ROM access only)
Trailers
Presented in DTS HD Master Audio 5.1
2012 / Germany / 97 min. / color / 1:85:1 / 1080i / not rated / in German with English subtitles
Gerhard Richter Painting
Director: Corinna Belz
Genre: Documentary
Blu-ray SRP: $34.95
DVD SRP: $29.95
Street date: September 25, 2012