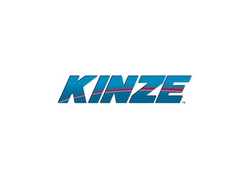 "Kinze wants to grow their business like we want to grow ours," said dealer Rick Tasto, with Lindeman Tractor in Atlantic, Iowa.
Williamsburg, IA (PRWEB) June 22, 2010
Kinze® Manufacturing hosted more than 400 members of their dealer network at the annual Kinze Dealer Day, held at the company's headquarters in Williamsburg, Iowa, on Friday, June 18.
Kinze chose "Growing Together," as the theme for the 2010 Dealer Day. The day focused on strengthening relationships with their dealer network and sharing relevant issues facing agribusiness and the agricultural equipment industry.
"The success of our dealer network members is paramount to us at Kinze Manufacturing," said Kinze National Sales Manager Luc van Herle. "Our dealers are our most important business partners. The Dealer Day event allows us to share insight on what we're doing, where we're going in the future, and how we can work together to build mutual success."
Highlights of the day included an introduction of Kinze product and marketing strategy along with upcoming product announcements for 2011.
John Spader, featured speaker and president of Spader Business Management, gave a presentation entitled, "Dealership Benchmarks and Metrics". Spader has worked closely with businesses in a variety of industries as a small business management resource provider.
Clyde Fessler, retired vice president of business development with Harley-Davidson®, shared strategies with "The Building of a Brand" in the equipment dealer marketplace. Considered the marketing guru behind the dramatic turnaround of Harley-Davidson in the 1980's, Fessler developed the strategy and brand for the company for more than 25 years, which also led the Harley-Davidson brand to the Marketing Hall of Fame.
Members of the Kinze leadership team also shared findings from a recent survey of Kinze customers, where they were asked to rate their level of satisfaction with their local Kinze dealer. Findings showed that approximately 96 percent of all past-year Kinze planter purchasers said they were satisfied with their Kinze dealer and their purchase experience. Ninety-seven percent said they would recommend their dealer to a friend or family member looking to purchase a new row-crop planter.
Attendees at the 2010 Kinze Dealer Day said they gained valuable information that will help them build their business. In addition, they were encouraged by the company's bold approach to future direction and technologies.
"Kinze wants to grow their business like we want to grow ours," said dealer Rick Tasto, with Lindeman Tractor in Atlantic, Iowa. "I think they're positioning themselves well for the future. I think Kinze moves pretty fast – when they want to change something, they can do it. I appreciate the fact that they can do that. They do a great job on that."
"We want to take an active role in the success of our dealers," said Kinze Vice President and Chief Marketing Officer Susanne Veatch. "By providing them with the right products, the right tools and the right information, we can build a pathway to increased mutual success. Maintaining an open, honest dialogue with our dealer network ensures that we are bringing the best and most relevant technology to their customers."
About Kinze Manufacturing
Kinze Manufacturing is the recognized technology leader and innovator of planters for row-crop production in sizes from 4 row 30" to 36 row 20". In addition, Kinze Manufacturing produces grain auger carts in capacities from 850 to 1050 bushels. For more information, log onto the Kinze Manufacturing website at http://www.kinze.com.
© Copyright 2010 by Kinze Manufacturing Inc. All rights reserved. Kinze®, the Kinze® logo are trademarks owned by Kinze Manufacturing, Inc. Harley-Davidson is a trademark of H-D Michigan, Inc. Kinze Manufacturing, Inc. reserves the right to make changes in engineering, design and specifications, or add improvements at any time without notice or obligation. KINZE-0283
###