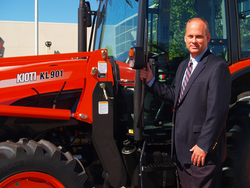 It has been my experience over the years
Wendell, NC (PRWEB) October 21, 2009
KIOTI has recently announced the appointment of Tony Brown as their new National Sales Manager.
Brown comes to KIOTI with a diverse range of managerial experiences at both the dealer and manufacturing levels. Following the pursuit of a business degree at Indian River State College, he was Sales Manager for Berggren Equipment Company of Fort Pierce, Florida.
After an eleven-year stint as Vice President of Brevard Tractor - a former John Deere dealership in Melbourne, Florida - Brown was named Regional Manager - Northeast US & Canada - for construction equipment powerhouse JCB, with headquarters in Pooler (Savannah), Georgia. In this position he utilized his numerous equipment marketing and sales skills while forming strong relationships with both existing and newly signed dealers.
In his new position at KIOTI, Brown will be wearing a number of hats, or as he puts it, "One very large hat." Under this hat will be the responsibilities of dealer recruitment, dealer development, marketing and sales. According to the new National Sales Manager, "KIOTI has set both near term and long range goals for itself and its dealer organization and to accomplish these goals, a team effort is required. I look forward to utilizing our combined years of experience and expertise to help bring KIOTI and our dealers to the next level."
"It has been my experience over the years," states Brown, "to appreciate the fact that an OEM and its dealer organization are intricately interdependent. The success of the OEM is predicated on the success of the dealer organization and vice versa." KIOTI is up against some well established names in the compact tractor and new UTV markets they serve. But their products have been very well received over their past 20+ years in North America, their 4-year, full-fleet warranty is second to none and their applications, parts, service, finance and marketing support programs will compete with any other in the business."
KIOTI manufactures a full line of compact tractors in the 22 - 90 horsepower range. Product-wise, their primary goal is to stay abreast of changes in the marketplace and to recognize new opportunities to fill the needs of the consumer. KIOTI and Daedong are known for their quality products and their quest for engineering excellence.
KIOTI has introduced several new products at the Sunbelt Ag Show in Georgia this month. In addition to three new tractor prototypes, KIOTI will present for the first time a new UTV. This new UTV will raise the bar for quality and application versatility over a wide range of jobs. Beyond that, these same machines are built for play as well and will be of interest to hunters, fishermen and other outdoor enthusiasts.
KIOTI is a member of AEM and other trade associations serving the farm equipment, construction and related industries. They are now celebrating over twenty years in North America. For more information on KIOTI, please call 877-GO-KIOTI (465-4684) or visit http://www.KIOTI.com.
###