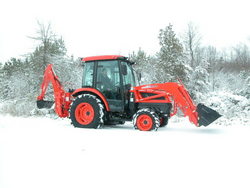 Many users have come to love our DKSE HST tractors for their ease of use and versatility
Wendell, NC (PRWEB) January 29, 2009
KIOTI Tractor, a division of Daedong Industrial Co., Ltd, is pleased to announce the introduction of two new models to their growing line of DKSE hydrostatic drive tractors. The DK50SE HST and the DK35SE HST Cab are now available to the North American market. KIOTI's DKSE Series now boasts 6 models in the 35 - 49 horsepower range. The new DK50SE HST and DK 35SEHST have all the quality components and standard features that owners of KIOTI products have come to love and are both available with standard ROPS or with a fully enclosed cab.
The brand new KIOTI DK50SE HST 49 horsepower tractor boasts a Tier IV, 4-cylinder, water-cooled diesel engine. A Rear PTO with optional mid-PTO allows users of this mid-range tractor to power a multitude of implements and attachments, making it capable of handling a wide variety of chores around the farm or jobsite. A Category I, 3-point hitch further enhances the DK50's versatility. "Many users have come to love our DKSE HST tractors for their ease of use and versatility," states Ron Parrish, Market Development Manager for KIOTI Tractor. "Anyone who can drive a car can get into the operator's seat of one of these machines and quickly become comfortable and productive operating it."
KIOTI's new DK50SE HST model is available with or without a cab, an increasingly popular feature among KIOTI buyers. Making the tractor available in a cab model allows buyer's the luxury of heating or air conditioning and protection from the weather. With this option, the tractor can essentially be used year-round, regardless of weather conditions.
Standard features on these new models include: high visibility glass, power steering, front and rear working lights, wet-disc brakes for increased safety, a rear differential lock, one lever joy stick loader control, electronically engaged four wheel drive, electronically engaged PTO with auto and manual positions, an oil cooler and KIOTI's industry-leading 4-Year, Full-Fleet Warranty.
All of the features found in the DK50SE HST are also found on the slightly smaller KIOTI DK35SE HST, 38 horsepower model. "The success of our DK line in large part is due to all the standard features built into the machines," states Parrish. "Many competitive tractor manufacturers offer these same features at an additional cost. When you purchase a KIOTI, they are part of the package."
KIOTI manufactures more than 20 tractor models in the 22 to 90 hp range. KIOTI Tractor is a member of AEM and several other trade associations serving the farm equipment and related industries. For more information on KIOTI or their new DK35SE HST or DK50SE HST models, please contact an authorized KIOTI Tractor dealer or KIOTI directly at 1-877-465-4684; or visit http://www.KIOTI.com.
###