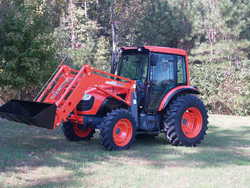 Wendell, NC (PRWEB) October 26, 2008
KIOTI is pleased to announce the expansion of their popular compact tractor line with the addition of the DK75. The DK75 was designed for use by farmers, landscapers, light construction contractors, utility workers and estate owners. The DK75 was engineered to exceed the needs of professionals and homeowners looking for a 75 hp tractor to get their work done. With the field-proven dependability and quality of KIOTI's DK series behind it, including the DK45, DK55, DK65 & DK90 models, the DK75 is sure to meet and exceed the expectations of owners and operators.
At the heart of KIOTI's new tractor is a 75 horsepower, 268.5 cubic inch turbo-charged diesel engine, mounted to a fully synchronized transmission with 12 gears, making it one of KIOTI's most powerful tractors. The engine provides ample power for PTO and tillage work, as well as tough front end loader applications. A Category II, 3-point hitch with stabilizers and telescoping ends makes implement attachment quick and painless.
In addition to the powerful engine, the DK75 has a fully enclosed cab, ensuring its ability to handle work on a year-round basis, regardless of the weather. Air conditioning and/or heat and an optional radio/cd player keep the operator comfortable while digging, raking, tilling or mowing. The cab was designed with excellent visibility in mind and boasts a deluxe suspension seat, power steering and tilt wheel to minimize operator fatigue and maximize safety.
KIOTI Tractors have long been built on the principle of quality and overall value. For KIOTI, value means incorporating many features into their tractors as standard equipment that other manufacturer's charge an additional cost for. Standard features on the DK75 include: pushbutton 4-wheel drive, single lever joystick for easy loader control and operation, forward facing hydraulic couplers, rear differential lock, rear PTO, wet disc brakes, an efficient, single element air cleaner and a single remote hydraulic valve.
KIOTI manufacturers a full line of compact tractors in the 22 - 90 horsepower range from their Wendell, North Carolina headquarters. The DK75 exemplifies KIOTI's continued commitment to increasing the depth of their tractor line to provide their customers throughout North America with a wide range of tractor choices to meet their application needs. KIOTI is a member of AEM in addition to being active members of several other trade associations serving the farm equipment and related industries. KIOTI is now celebrating over twenty years in North America. For more information on the DK75 or other KIOTI products, please call 877-465-4684 or visit KIOTI at http://www.kioti.com or KIOTI Tractor __DK75__ KIOTI.
###