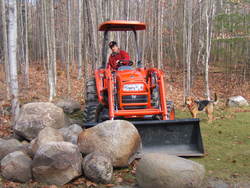 Mounds and mounds of dirt, trees and boulders to complete his landscaping.
Lake George, NY (PRWEB) April 1, 2009
--KIOTI Tractor is pleased to announce Richard Vega of Lake George, New York as the winner of their 2008 National Success Stories contest. This national contest was run online through http://www.KIOTI.com to collect customer stories about how they utilize their KIOTI tractors. To be eligible for the contest, entrants were required to submit a KIOTI tractor serial number, the dealer name and date they purchased the tractor, a description of how they use their tractor and a photograph of themselves with the tractor. One winner was selected each month, with the monthly winners becoming eligible for the grand prize.
Vega owns Adirondack Furniture Designs, a rustic furniture design business and uses his DK45SE HST tractor for a variety of tasks from landscaping, to tree cutting and hauling, to snow removal and lifting. To accomplish this diversity of tasks, he equipped the tractor with a number of implements, including a loader, landscape rake, blade and pallet forks.
Vega submitted an entry into the KIOTI Success Stories contest last May and was selected as the winning entry that month. "My beautiful DK45SE HST has it all. It's powerful, yet easy-to-handle and its 3 point hitch is great for setting up implements. I have cleared three acres of wooded land and made the property around our shop look like a state park, substantially increasing its value. My investment in the KIOTI DK45 was worth every penny. I've had no problems with the machine. No comparable tractor would give me all the features on my KIOTI at a similar cost, plus KIOTI's 4-Year, Full-Fleet Warranty set my mind at ease."
Along with his testimonial, Vega sent before and after photos of the work completed on his property with the DK45, noting that he has used it to move "Mounds and mounds of dirt, trees and boulders to complete his landscaping." "A picture is worth a thousand words," states Ron Parrish, Market Development Manager of KIOTI. "The photos sent with Vega's entry really made it apparent how much work he has done with his tractor, showcasing its ability to be a valuable tool for small business owners, landscapers, do-it-yourselfers and others."
KIOTI ran the Success Stories contest from January 1, 2008 through December 31, 2008. Monthly winners received a collectible KIOTI tractor, a KIOTI hat and a $100 gift card plus an opportunity to win the grand prize. As the national grand prize winner of this year-long contest, Vega received a $1,500 gift card.
Vega purchased his KIOTI tractor through Wallace Tractor & Equipment of Lake Ariel, Pennsylvania. "Wallace Tractor was excellent to deal with and still is to this very day. They listened closely to the scope of the work I needed to complete with the tractor prior to showing me the DK45. By asking me a series of qualifying questions upfront, they were able to make the perfect tractor and implement recommendations. The DK45 is a real workhorse, yet easy to operate," says Vega. "Even my wife likes using it!"
KIOTI Tractor is a market driven company, who manufacturer a full line of compact tractors in the 22 - 90 horsepower range from their Wendell, North Carolina headquarters. The DK45 is one of many models built to provide customers throughout North America with a wide range of tractor choices to meet their application needs. KIOTI is a member of AEM in addition to being active members of several other trade associations serving the farm equipment and related industries. KIOTI Tractor is now celebrating over twenty years in North America. For more information on the DK45 or other KIOTI products, please call 877-465-4684 or visit http://www.KIOTI.com.
###