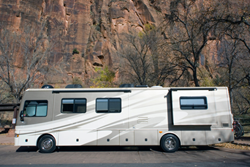 Everett, WA (PRWEB) April 21, 2014
Americans are well-known for their need to be ahead of the game when it comes to the latest and greatest in technology. Smart phones are constantly updated or upgraded, computers keep getting smaller and faster, and cars are continually incorporating new and better advancements in safety and comfort. It turns out that RV-owners have the same insatiable desire to improve and upgrade their RV's as well, according to an article released by Kirkland RV.
The article lists the top five ways they see their RV customers desiring to update and upgrade their RVs. Improvements such as a high-powered portable or attached satellite allow for satellite TV in virtually every RV park across America. The article explains that these easily installed satellite improvements can provide high-definition TV, so consumers don't need to miss a minute of their football games.
In addition to the new and improved satellite, the article says that the next thing on an RV-owners to-do list is a TV upgrade. Used RVs at least 5+ years old usually have an older tube TV. One of the most popular upgrades is an LED flat screen TV on an articulated wall mount that allows adjustment of the tilt and direction of the TV.
Other improvements are more focused on safety and practicality, such as replacing electricity-draining standard bulbs with energy efficient LED lights that save both on the electrical system and energy costs. Installing a backup camera is, according to the article, both easily and quickly done. Many RV DIY-ers will find online tutorials of how this can be achieved, but the install and purchase is relatively inexpensive and the article advises consumers to hire out for this install.
Individuals looking for easy ways to improve their 'outdated' RV will find this article inspiring in their quest for RV-travel perfection. Learn more about Kirkland RV and more advice on the best travel destinations, the worst preventable RV accidents, and available used and consignment RV's.
About Kirkland RV Sales:
Kirkland RV Sales offers a variety of RVs, including Class A's, Class C's, and Fifth Wheels. Their branch in Everett is acclaimed for its high-quality customer service and satisfaction. To learn more, visit their website:http://www.kirklandrvsales.com/.
13111 Highway 99
Everett WA 98204
Phone: (866) 710-0064
Fax: (425) 710-0504