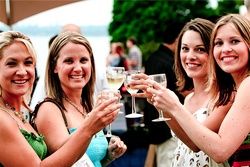 Kirkland, Wash. (Vocus) May 14, 2010
Whether expert or amateur, guests can taste and learn from skilled winemakers at Kirkland Uncorked's Tasting Garden July 16-18, 2010. Discover the nuances of different varietals, the process of aging and how to distinguish wine aromas, all while soaking up million dollar views on Kirkland's waterfront.
Known as one of the world's top wine regions, Washington has more than 30,000 acres of vineyards and over 650 wineries. From Dusted Valley Vintners/Boomtown to Vin du Lac Winery and Hollywood Hill Vineyards, guests can sample over 50 different wines from across the state without having to book an expensive wine tour. An un-oaked Chardonnay or crisp Riesling are a perfect match for a summer day whilst dipping toes in Lake Washington and a luscious Port to complement summer nights.
Once guests find a wine that indulges their senses, they can savor their discovery by taking a bottle home. At the Kirkland Uncorked Wine Shop, presented by The Grape Choice, bottles from festival wineries are available for purchase at special event prices. For a full list of Washington wineries pouring at the event and more details on the Wine Shop, visit kirklanduncorked.com.
Guests can elevate their tasting experience by pairing the region's vino with enticing bite-sized feasts that Kirkland and Northwest restaurants have to offer.
What do you think guests would be willing to pay for access to this wining and dining experience? A ticket price of only $25 makes this a wine festival accessible to all those interested in celebrating the grape.
Kirkland Uncorked is a benefit for the Hope Heart Institute. To learn more about the festival and plan your stay in Kirkland visit http://www.kirklanduncorked.com . Tasting Garden advance tickets on sale June 7, 2010. Tasting Garden is open to guests 21+ with valid ID.
###