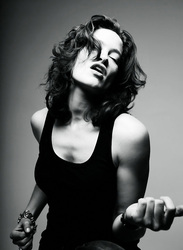 ..sassy spin on soul music
Brooklyn, NY (PRWEB) January 5, 2009
British Alt/Soul artist Kirsten Price will be taking a break from the recording studio where she has been busy recording her second solo album, to embark on her first USA national tour of 2009. Having just completed a touching new music video "Fall" which is due out shortly, she is now gearing up to spend several weeks on the road. Along with a pool of independent solo artists doing it their way, she is set to drive, sweat, belt and groan her way through what business leaders predict may be the worst months of the deepening economic downturn. Serving up relief in the form of her "..sassy spin on soul music" (Metromix), she will be gracing the stage with a simple rhythm section line up while performing triple duty on keys, guitar and bass.
The soon to be released music video for "Fall" and the upcoming winter tour represents a departure for Price who had the sexy video for her song "Magic Tree" running on the Showtime network throughout season 4 as a promo for their popular Lesbian drama The L-Word.
Fusing Philadelphia Soul and Canadian Rock & Roll, Live Village Records singer Dammien Alexander will be opening for Kirsten Price's Tough Times '09 Tour in DC, Philadelphia and Montreal. Singer-songwriter who was recently named voted "Best Artist" by the Pittsburgh City Paper will be the opening for Kirsten Price in Pittsburgh, PA. Further support and co-bills for the Tough Times '09 Tour are yet to be announced. Kirsten Price will be joining the Myspace Music Tour as a special guest opening for The Semi Precious Weapons in St. Louis, MO on February 9th.
As of writing this, confirmed dates for the Tough Times '09 Tour include:
Jan 29, DC9 Club in Washington D.C. - Jan 30, World Cafe Live in Philadelphia PA - Jan 31, BAM Café Live in Brooklyn, NY - Feb 3, The Green Room in Montreal, Canada - Feb 4th , Cafe 939 in Boston, MA - Feb 5 , Club Café in Pittsburgh, PA - Feb 6, The Pike Room in Detroit, MI - Feb 7, The House Of Blues in Chicago, IL - Feb 9, Cicero's in St. Louis, MO - Feb 11, Hi Tone Cafe in Memphis TN - Feb 12, 12th & Porter in Nashville, TN - Feb 15, Smiths in Atlanta, GA - Feb 21, Doug Fir Lounge in Portland, OR - Feb 27, The Knitting Factory in Hollywood, CA - March 1, Monterey Live in Monterey, CA
For additional information on Kirsten Price's upcoming Tough Times '09 Tour, contact Sera Roadnight. For more on Kirsten Price, including free music streaming, pics, videos, profile, bio, downloads and upcoming tour dates, visit http://www.myspace.com/kirstenpricemusic or http://www.kirstenprice.com . Kirsten Price's debut album "Guts & Garbage" KPI (2008) is available on iTunes, Rhapsody, Imeem, AmieStreet and Amazon as well as in regional FYE stores and Amoeba Music.
###